Tanzania Travel Information
by Roger N. Clark
All images, text and data on this site are copyrighted.
They may not be used except by written permission from Roger N. Clark.
All rights reserved.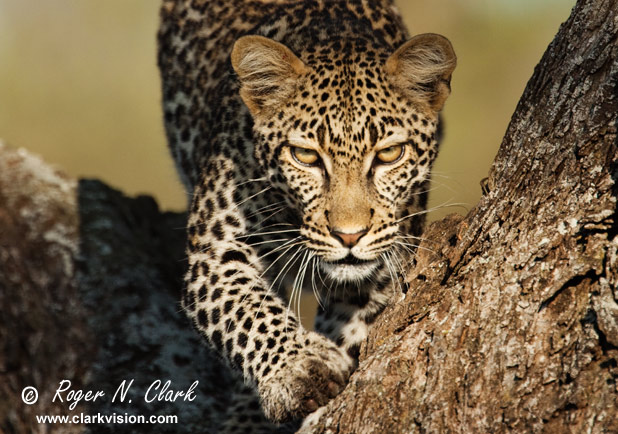 For many people, a trip to Africa would be a trip of a lifetime. It isn't that expensive, especially compared to many far away trips. Why are places like the Serengeti such a big draw? After all, you can see these animals in zoos and animal parks.
Some places, like Africa, are just that special in my opinion to make such a trip. Most animal parks are there to protect the animals. Thus the animals behave differently than in the wild.
Places in the Serengeti have animal densities greater than many game parks or even zoos. There is nothing comparable in North America. That, combined with the experience of being there with the diversity of animals, meeting the wonderful people, is an astounding experience not to be missed.
Imagine you are in the great migration on the Serengeti. There are more animals than on a typical US cattle ranch, and they stretch all the way to the horizon. Drive 10 kilometers in the migration, and it is still animals all the way to the horizon. And then periodically, there is a clear space, with lions or cheetahs in the middle. The open spaces, the acacia forests, the birds, and the exotic wildlife is simply stunning.
Now consider Yellowstone, the "American Serengeti." The animal density is 100 times less at best and you generally can't get close. There really aren't that many different animals compared to the Serengeti. You'll be lucky if you see a grizzly at a great distance, and you can't get close.
The Serengeti is different. It is still wild. Yet you can experience this wild place safely. Many of the lodges are former hunting lodges. Since hunting is no longer allowed, the animals tolerate safari vehicles and go about their normal activities.
You can pay for photo tours for ~10 days which are going for about $9,000 to 10,000 plus the air fare to get there (2009 prices). Private tours with sharing with some others is less than half that, but you have to do you own booking and negotiation with an outfitter (this is what I do). With several people per vehicle, and depending on length of time there, you can have a great time for under $4,000 to $5,000 per person plus air fare to get there. Then it is just a matter of deciding to do it. The lodges are great, the food is good and the people are wonderful. The prices above include driver, lodges, all meals, pick up and drop off at the airport, and park entry fees. Not included are tips and drinks.
For me,the only difficulty for such a trip is the long airplane rides and the airline weight restrictions which work against photographers. Once there, I have always had a wonderful time, don't want to leave, and can't wait to get back.
The Serengeti is located in east Africa just south of the equator. The high elevation (about 900 to 1,900 meters, 3,000 to 6000 feet) means lower temperatures than near sea level. Typical mid day temperatures in January-February tend to run in the mid 80s F and the humidity is reasonable. Early morning game drives are cool, often requiring a light jacket, at least before the sun gets too high. An afternoon hike is warm but not difficult. The Ngorongoro crater temperatures are lower, especially on the rim, because elevations are higher. Coats are needed on the start of a sunrise game drive.
Below is information that will help you plan such a trip. It is best to plan a trip to the Serengeti when the migration is in the region you are visiting. In January-February, the migration tends to be in the southern part of the Serengeti, in northern Tanzania.
Hiking in Tanzania: Lake Manyara and the Serengeti
---
http://www.clarkvision.com/articles/travel/tanzania/
First Published July 5, 2009
Last updated December 18, 2009.