by Roger N. Clark
All images, text and data on this site are copyrighted.
They may not be used except by written permission from Roger N. Clark.
All rights reserved.
Here is the first part of a lens test to compare some telephoto lenses. The test below compares 3 lenses:
Canon EOS 100-400mm L IS lens (a high quality, lens that is about 3 times the price of the other lenses).
Sigma 170-500mm zoom.
Canon EOS 75-300mm USM IS lens.
The test was done on Fujichrome Velvia photographing a black and white test target at a distance of about 245 inches. Metering was at meter +0.5 stop (because of the large white area in view). The camera+lens was mounted on a sturdy Bogen tripod; imaging in the afternoon sun so exposures were 1/90 second or faster. The images were scanned on a Polaroid Sprintscan 4000 at 4000 dpi and are reproduced here at full size. The images here are jpeg compressed but are visually indistinguishable from uncompressed images. The results shown are for a small section in the central portion of the image.
Examine the resolution of the black-white bars. The Sigma lens shows the best resolution, but has some color fringing, especially at f/5.6 (note the orange halo). The EOS 100-400 lens has the best color correction but is not as sharp as the Sigma. The EOS 75-300 has similar sharpness to the EOS 100-400, but a little more color fringing at faster f/ratios. Note the general color of the images: the Sigma is most neutral; the Canon's have a pinkish cast.
The results were so surprising, that I've done it two times. This is the second test. Both tests showed the same results. The first test was inside with exposure times of about 1/4 second. <!###################################################>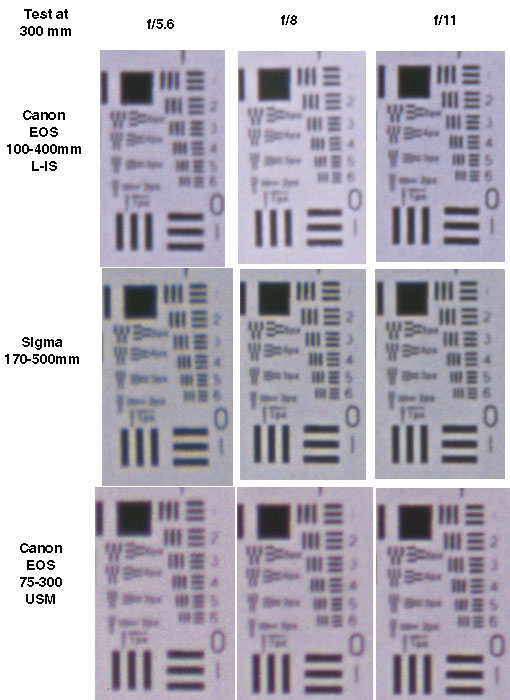 <!###################################################>

I'll add tests at 400mm (and 500mm for the Sigma), and show the effects of image stabilization soon.
---
First Published May, 2000.
Last updated August 13, 2006