ClarkVision Photography: Action Gallery
<!###################################################>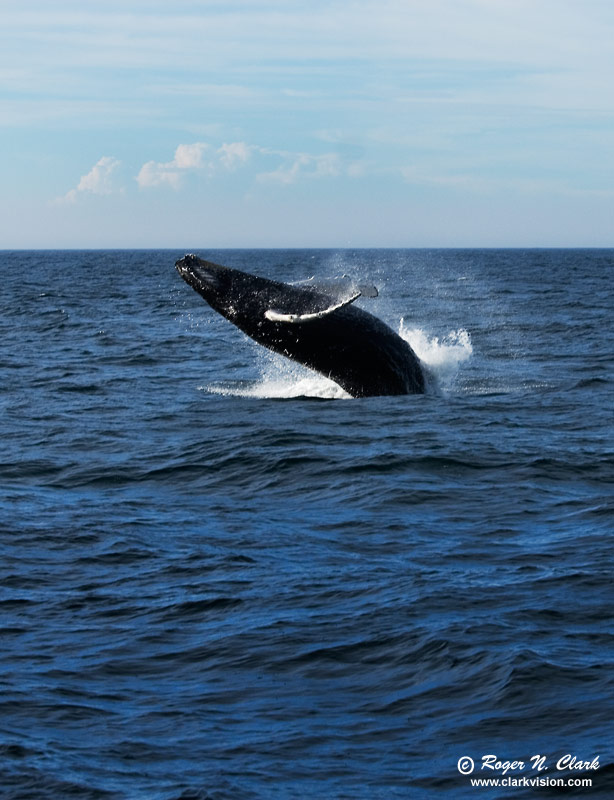 Breaching Humpback Whale #3556
Breaching humpback whale, Stellwagen Bank National Marine sanctuary (SBNMS) off the coast of Massachusetts. The scenario for photographing this breach went something like this: 0) camera ready (0.0 seconds); breach spotted. 1) Move camera to position and begin framing. First frame at 0.1 to 0.2 second and fired before camera view got to the whale. 2) Second frame, the frame shown here, estimated to be 0.3 to 0.4 second from first spotting the breach. 3) Whale dropping into water at 0.5 to 0.6 second but frame still shows most of the whale. 4) Major splash blocks view of most of the whale except a small part of the tail (0.7 to 0.8 second, frame 4). 5) Splash larger than whale (0.9 to 1 second, frame 5).
Technical. Canon 30D 8-megapixel digital camera, 70 - 200 mm f/4 L IS lens at 70mm, f/5.6, 1/1000 second at ISO 200. Full height crop from a landscape format image.
To learn how to obtain stunning images like this, please visit my Extensive Articles on Photography .
---
Keywords to this image = whales Humpback Stellwagen_Bank National_Marine_sanctuary SBNMS oceans Massachusetts action
Image ID: whale.breach.c07.27.2007.IMG_3556b-800.jpg


All images, text and data on this site are copyrighted.
They may not be used except by written permission from Roger N. Clark.
All rights reserved.
Last updated September 01, 2023