ClarkVision Photography: Astrophoto 1 Gallery
<!###################################################>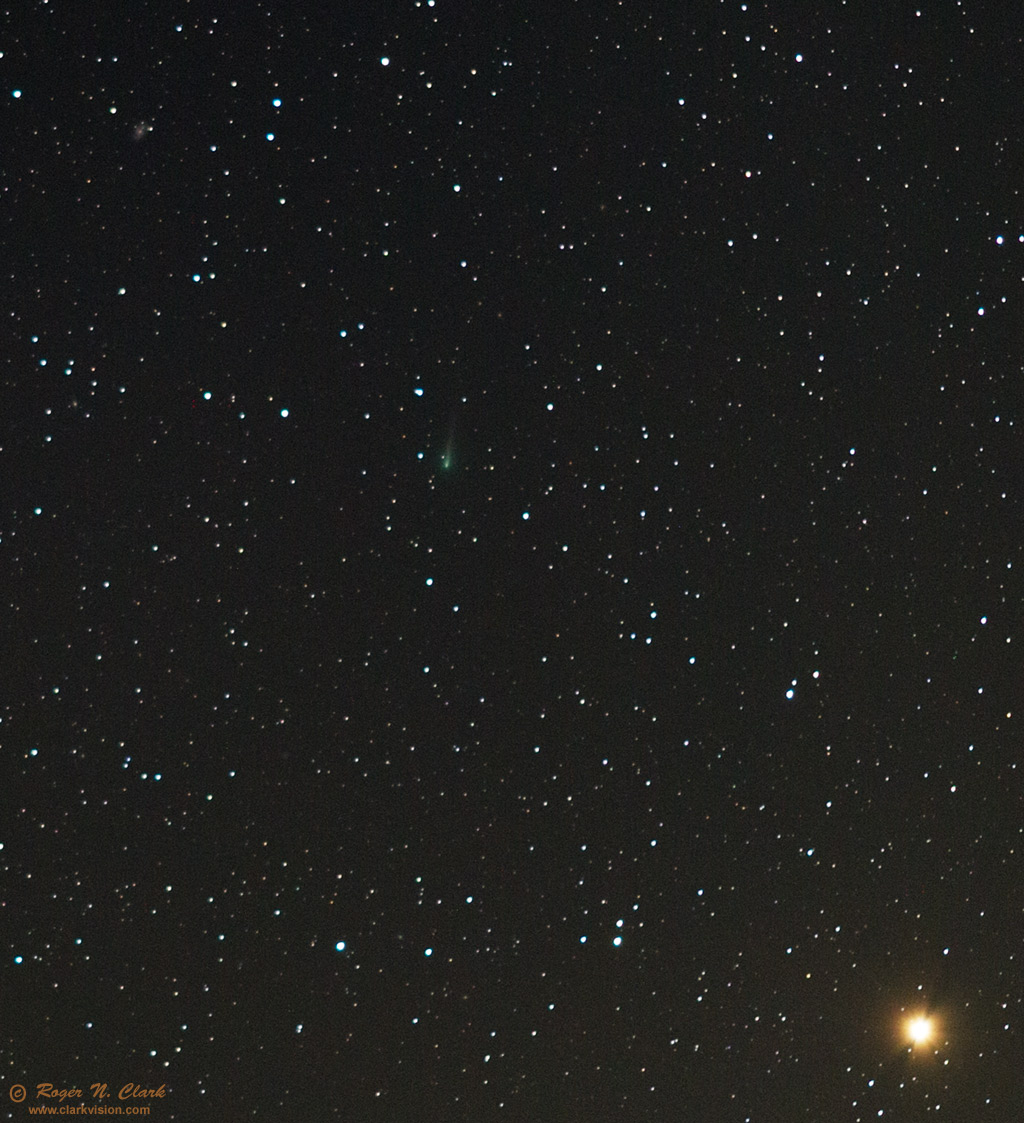 Comet ISON October 9.44, 2013 UT
Comet ISON as seen on October 9, 2013 at 4:30 am MDT (10:30 UT). I used similar images made with a 300 mm lens and a custom program to derive the comet's brightness. At that time, it was magnitude 10.9 in the green passband of the DSLR (very similar to the V passband of the astronomical photometry system, and similar to the color vision response of the human eye. Magnitude 10.9 puts it in the mid range of the brightness predictions, indicating comet ISON is destined to put on a great show in November and December. A month from the time of this image, the comet will likely be many times larger and and around 40 times brighter, then doubling in brightness every few days, with the time to double in brightness shortening up to the closest approach to the sun on November 29.
The green comet is near upper left center, showing about an 8-arc-minute long tail, Mars is the bright orange object near the lower right corner. A small galaxy, NGC 3041 appears near the upper left corner. The galaxy is magnitude 11.5.
Technical. Canon 1D Mark IV 16-megapixel digital camera, Canon 200 mm f/2.8 lens at f/2.8. Five exposures, 90 seconds each at IO 1600 were combined (7.5 minutes total exposure). No dark frame subtraction, no flat fields, no noise reduction. Tracking with an astrotrac.
To learn how to obtain stunning images like this, please visit my Extensive Articles on Photography .
---
Keywords to this image = astrophoto-1 comet ISON digital_astro canon_1d4
Image ID: comet_ison.200mm.c10.09.2013.C45I4618.C45I4618-22.c-c1-1123vs.jpg


All images, text and data on this site are copyrighted.
They may not be used except by written permission from Roger N. Clark.
All rights reserved.
Last updated August 01, 2022