ClarkVision Photography: Astrophoto 1 Gallery
<!###################################################>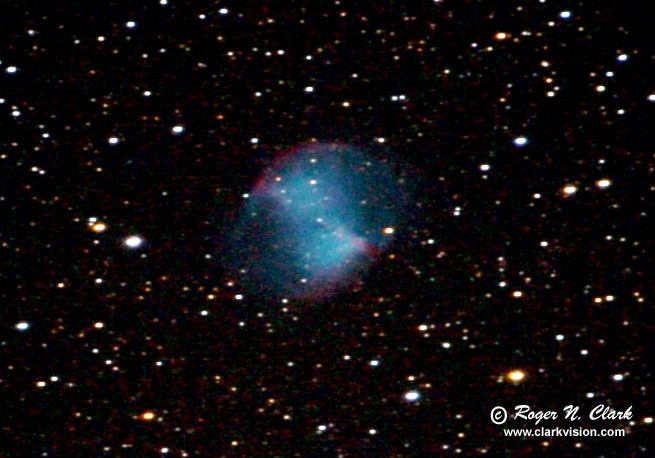 The Dumbell Nebula: Planetary Nebula M27
The detail in the ring is approximately the view one gets from about an 8-inch telescope in dark skies (except color is more of a pastel teal). Stars shown are approximately what can be seen in a 18-inch telescope in dark skies. This is the full resolution image, cropped from the larger 6-megapixel 10D frame. Plate scale = 2.1 arc-seconds/pixel. The redder faint stars are an artifact of the strong light pollution from the Denver metro area, where this image was obtained.
Note: the blue color is not natural color. The color should be teal and the blue here is indicative of a poor or no color matrix correction. Note: this image was processing with a "traditional" astrophoto workflow with darks, flats and bias using ImagesPlus in 2003.
500 mm f/4 + 1.4x TC = 700 mm f/5.6, Canon 10D camera at ISO 400. Added 15, 30-second, unguided exposures (=7.5 minutes total) made from in the Denver metro area. Faintest star ~ 17.0.
The Exposure Factors, CEF, CEFA are measures of the relative amounts of light received from a subject. It can be used to fairly compare wildly different lens/telescope apertures and exposure times. For this image:
Please visit my Extensive Articles on Photography .
---
Keywords to this image = astrophoto-1 nebula Messier digital_astro
Image ID: m27.c08.20.2003-15images.8bit-crop1.g.jpg


All images, text and data on this site are copyrighted.
They may not be used except by written permission from Roger N. Clark.
All rights reserved.
Last updated August 01, 2022