ClarkVision Photography: Astrophoto 1 Gallery
<!###################################################>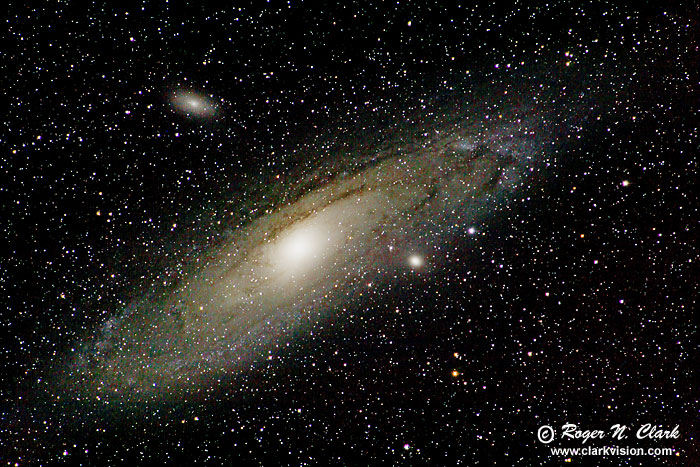 Image ID: m31.c07.10.2005.Avg23-75s-v1.6-700.jpg
TITLE=The Andromeda galaxy, Messier 31
The Andromeda Galaxy, M31, is a spectacular large galaxy and close to the Milky Way.
Camera: Canon 1D Mark II 8-MPixel digital camera, set at ISO 800. Lens was a 5-inch aperture, 500 mm focal length F/4 (Canon's 500 mm f/4 IS L telephoto lens) with a 1.4x teleconverter giving 700 mm at f/5.6. Data were recorded in raw mode, 75 second exposures, and 23 exposures were added in ImagesPlus using raw files converted to linear output by ImagesPlus 2.5. Total exposure time = 28.75 minutes. Processing included light fall-off correction and dark frame subtraction in ImagesPlus. Contrast stretch in ImagesPlus using digital development and in Photoshop using curves and levels. Image restoration using ImagesPlus Richardson-Lucey deconvolution.
Image guided with an ST4 autoguider on a 3-inch f/8 refractor and a Losmandy G11 mount.
To learn how to obtain stunning images like this, please visit my Extensive Articles on Photography .
Keywords to this image = astrophoto-1 galaxy Messier night low-light digital_astro

All images, text and data on this site are copyrighted.
They may not be used except by written permission from Roger N. Clark.
All rights reserved.
Last updated August 23, 2014