ClarkVision Photography: Astrophoto 1 Gallery
<!###################################################>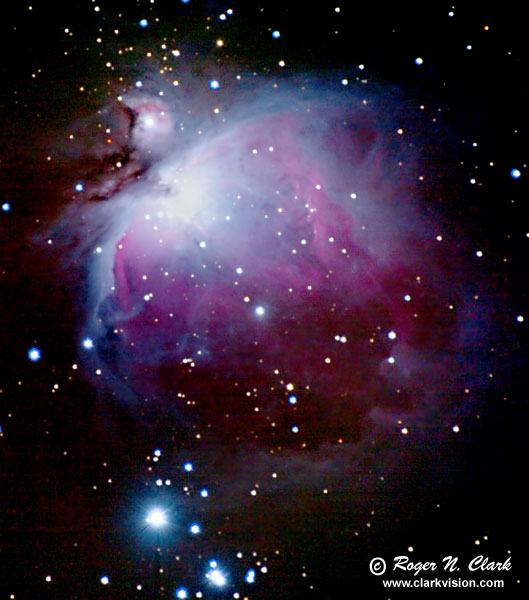 The Great Orion Nebula, M42, from Denver (in Strong Light Pollution)
The sword of the constellation of Orion is home of the Great Orion Nebula, M42. North is up in this image. This image was done in bright light pollution of the Denver metro area. This image is an enlargement of the Sword of Orion image.
Camera: Canon 10D 6-MPixel digital camera, set at ISO 400. Lens was a 5-inch aperture, 500 mm focal length F/4 (Canon's 500 mm f/4 IS L telephoto lens) plus 1.4x teleconverter giving 700 mm at f/5.6. Data were recorded in raw mode, 1 minute exposures, and 44 exposures were added in ImagesPlus. Note: this was an experiment using jpeg 8-bit files extracted from the raw files. No dark subtraction. Processing included light fall-off correction in photoshop using lighting effects to generate a light fall-off profile and reducing the falloff using a color burn layer. Contrast stretch in ImagesPlus using digital development and in photoshop using LAB mode luminance channel only. Unsharp mask on luminance channel and Levels adjustments in photoshop. The light fall-off correction was significant because of the strong stretch needed to separate the nebula from the bright sky background. The sky was several times brighter than most of the nebula, resulting in extremely low contrast.
The Exposure Factors, CEF, CEFA are measures of the relative amounts of light received from a subject. It can be used to fairly compare wildly different lens/telescope apertures and exposure times. For this image:
Image guided with an ST4 autoguider on a 3-inch f/8 refractor and a Losmandy G11 mount.
The sky brightness at the zenith in the Canon red, green, and blue pixels was: red = 17.1, green = 17.9 and blue = 18.6 magnitudes per square arc-second. Dark country skies are typically fainter by about a factor of 100 in red and green magnitudes about 22 to 23). The sky was brightest in the red channel because of the sodium street lights.
Please visit my Extensive Articles on Photography .
---
Keywords to this image = astrophoto-1 nebula Messier digital_astro
Image ID: m42-700mm-8587-8631_RJavg44.v6-crop600.jpg


All images, text and data on this site are copyrighted.
They may not be used except by written permission from Roger N. Clark.
All rights reserved.
Last updated January 21, 2016