ClarkVision Photography: Astrophoto 1 Gallery
<!###################################################>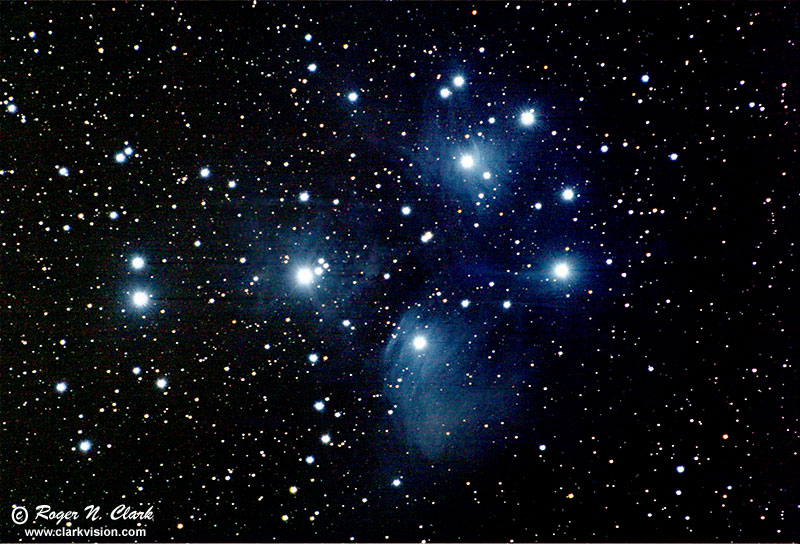 Image ID: m45-700MM-8534-8561_C16B-add27-v3-800.jpg
TITLE=The Pleiades Star Cluster, M45, from Denver
The Pleiades star cluser, also known as the Seven Sisters is immersed in nebulosity due to scattered starlight. The surface brightness of the nebulosity is very low (see surface brightness of the nebulae in M45 ). It usually is not imaged from deep within the light pollution in large cities such as Denver, but this image was done in bright light pollution.
Camera: Canon 10D 6-MPixel digital camera, set at ISO 400. Lens was a 5-inch aperture, 500 mm focal length F/4 (Canon's 500 mm f/4 IS L telephoto lens) plus 1.4x teleconverter giving 700 mm at f/5.6. Data were recorded in raw mode, 1 minute exposures, and 27 exposures were calibrated and added in ImagesPlus. Calibration included dark subtraction and correction for light fall-off. All processing in 16-bits/pixel. The sky was several times brighter than the nebulae, resulting in extremely low contrast.
Compare this image with the other M45 in the astrophoto gallery. That is the same data as for this image, but the other was processed using 8-bit jpeg data.
Image guided with an ST4 autoguider on a 3-inch f/8 refractor and a Losmandy G11 mount.
The sky brightness in the Canon red, green, and blue pixels was: red = 17.1, green = 17.9 and blue = 18.6 magnitudes per square arc-second. Dark country skies are typically fainter by about a factor of 100 in red and green magnitudes about 22 to 23). The sky was brightest in the red channel because of the sodium street lights.
Please visit my Extensive Articles on Photography .
Keywords to this image = astrophoto-1 star_cluster Messier night low-light digital_astro

All images, text and data on this site are copyrighted.
They may not be used except by written permission from Roger N. Clark.
All rights reserved.
Last updated September 28, 2014