ClarkVision Photography: Astrophoto 1 Gallery
<!###################################################>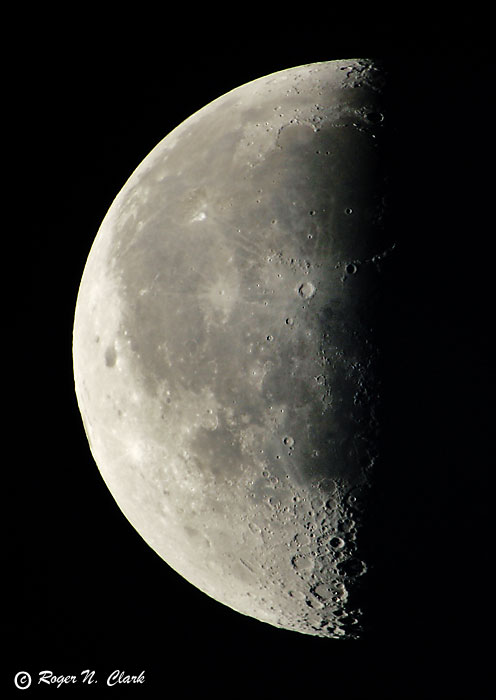 The Moon With A Telephoto Lens
This image of the moon was obtained on January 3, 2005 using a Canon 1D Mark II 8-megapixel digital camera, a 500 mm f/4 L IS lens with 1.4 and 2x teleconverters. The total focal length is 1400 mm for a full scale of 1.2 arc-seconds per pixel. Three raw images were converted and added to increase the signal-to-noise, then the image was increased in size by 2 times. The exposure times were 1/125 second at ISO 200, f/11.2 (this is wide open on the 500 mm f/4 lens with the teleconverters). This larger image was then sharpened with Adaptive Richardson-Lucey Restoration with a 11x11 box, 10 iterations, noise level = 2 standard deviations, then a second pass with a 7x7 box, 10 iterations. Final adjustments included curves stretch and unsharp mask. For an image with the original camera resolution, 1.2 arc-seconds per pixel, 1295 x 1829 pixels (260 KBytes), CLICK HERE. Note: this large image is limited by atmospheric turbulence.
To learn how to obtain stunning images like this, please visit my Extensive Articles on Photography .
---
Keywords to this image = astrophoto-1 moon night
Image ID: moon-JZ3F3658-60-c-5x-700.jpg


All images, text and data on this site are copyrighted.
They may not be used except by written permission from Roger N. Clark.
All rights reserved.
Last updated July 01, 2023