ClarkVision Photography: Astrophoto 1 Gallery
<!###################################################>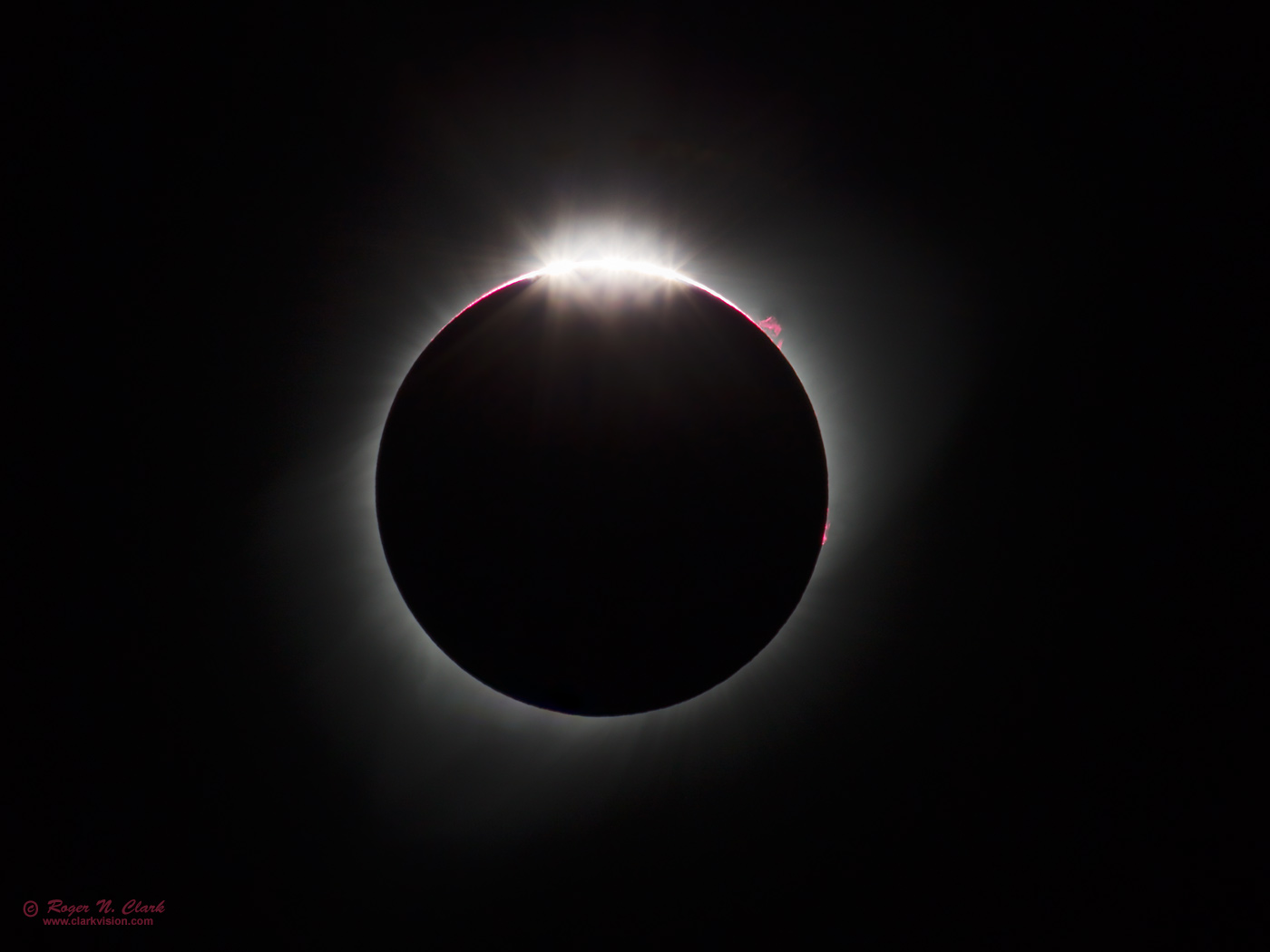 Diamond Ring, Total Solar Eclipse of August 21, 2017
At the end of the total solar eclipse of August 21, 2017, light from the solar photosphere floods the view, signaling the the end of totality. This image was made from eastern Wyoming in pristine clear blue skies. It was an amazing sight! Note (if your monitor is has a good color calibration) that the diamond ring appears white and the solar corona surrounding the Moon is a gray-green in this natural color image. The pink color of the prominences is due to emission from hydrogen (red hydrogen-alpha + blue hydrogen-beta and hydrogen-gamma). These colors are similar to many hydrogen emission nebulae in the night sky.
Technical. Canon 6D 20-megapixel digital camera, with a 1.4x teleconverter and a Canon 500 mm f/4 telephoto lens on a fixed tripod. This is a 2-image composite for a good exposure on the prominences, and the diamond ring. Exposures: 1/256 and 1/2500 second at f/11, ISO 200.
---
Keywords to this image = astrophoto-1 the_sun eclipse canon_6d
Image ID: solar-eclipse-diamondring-rnclark.c08.21.2017.IMG_0402+4-rl.f-c2-0.5xs.jpg


All images, text and data on this site are copyrighted.
They may not be used except by written permission from Roger N. Clark.
All rights reserved.
Last updated July 01, 2023