ClarkVision Photography: Birds Gallery
<!###################################################>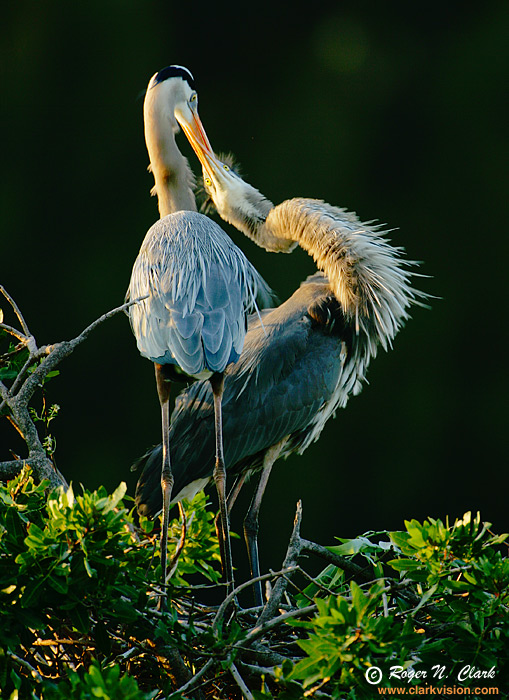 The Kiss, Great Blue Herons at Sunset #8149
A magical moment during the last few seconds of sunset light, these two Great Blue Herons share a kiss after the male delivers a stick for their nest. Venice rookery, Florida. This pair showed great affection for each other for the several days that I was at the rookery. The female heron is below the male, and this unusual view which shows the female from the bottom of her head.

---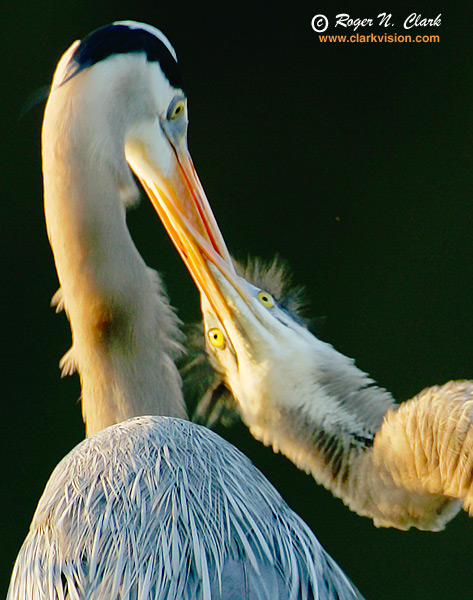 Image ID: great.blue.herons.the.kiss.JZ3F8149.f-600-sub1.jpg


This sub frame shows detail of the heron's eyes, in this unusual view from the bottom of the female's head. This image is about 1/4 the final image (which is 16x22 inches at 305 ppi).

Technical: Canon 1D Mark II camera, 700mm f/5.6 (500 mm f/4 IS lens +1.4x TC), 1/125 sec at ISO 100, -1.0 stop. Raw conversion, image resizing, contrast stretch and Richardson-Lucy iterative image restoration done in ImagesPlus with 64-bit processing; final processing in Photoshop. This image was the 4th to last frame of the day, the last 3 were in fading sunset light as the kiss ended a few seconds after this image. The sun was setting to the left, about 90 degrees from this view. The birds are partially in shadow, lit by the blue sky and light reflecting from leaves and a few clouds. The background is distant trees. The image was cropped about 10% from the original size.

To learn how to obtain stunning images like this, please visit my Extensive Articles on Photography .
---
Keywords to this image = florida bird heron nature-1 sunset
Image ID: great.blue.herons.the.kiss.JZ3F8149.f-700.jpg


All images, text and data on this site are copyrighted.
They may not be used except by written permission from Roger N. Clark.
All rights reserved.
Last updated October 11, 2021