ClarkVision Photography: Birds Gallery
<!###################################################>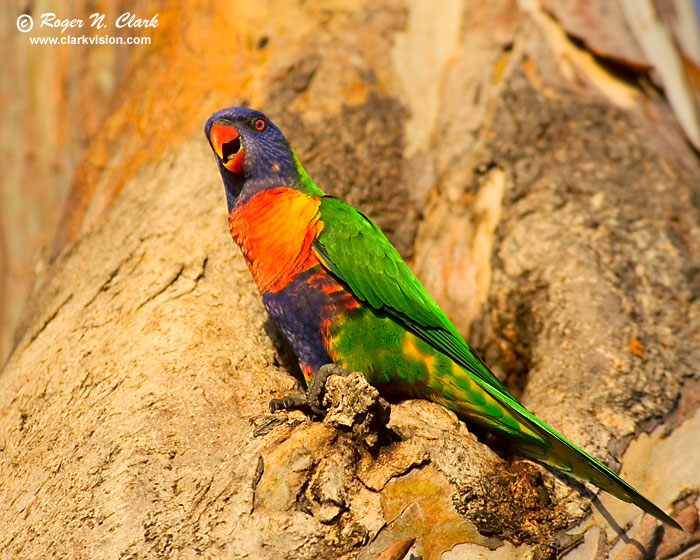 A Happy Rainbow Lorikeet 8962
This wild bird is one of the nesting pair tending a nest (to the right of its tail). Its mate is just off the image in this frame. New South Wales, Australia.
Lorikeets are in the Parrot family. They are found in the western Pacific and the East Indies areas. The Rainbow Lorikeet, Trichoglossus haematodus moluccanus, is found in eastern Australia.
Technical: Canon 1D Mark II 8-megapixel camera, Canon 300 mm f/4 L IS lens + 1.4x teleconverter = 420 mm at f/5.6 1/500 second at ISO 100 near sunrise, -0.3 stop. Photographed on a Gitzo carbon fiber tripod with Wimberly Sidekick on an Arca-Swiss B1 ball head. RAW image capture.
The second image (below) shows the full pixel resolution sections of the raw-converted image to illustrate the sharpness in the original image. On a 72-inch monitor the original full resolution image would appear 32.4 x 48.6 inches, so step back about to about 4 feet to see what the image detail would appear like on a 300 dpi print.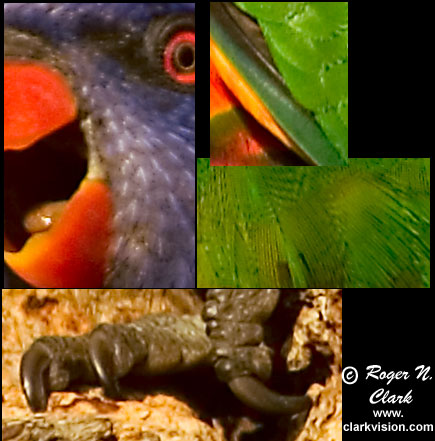 ---
Key Words for web searching: parrot photos, parrot photo, Lorikeet photos, Lorikeet photo, bird photography, wildlife photography, Digital Photography, Photography, Nature Photography, Digital Imaging, Photo Gallery.
To learn how to obtain stunning images like this, please visit my Extensive Articles on Photography .
---
Keywords to this image = australia bird lorikeet
Image ID: lorikeet.c04.07.2005.JZ3F8962.b-700.jpg


All images, text and data on this site are copyrighted.
They may not be used except by written permission from Roger N. Clark.
All rights reserved.
Last updated October 19, 2021