ClarkVision Photography: Colorado Gallery
<!###################################################>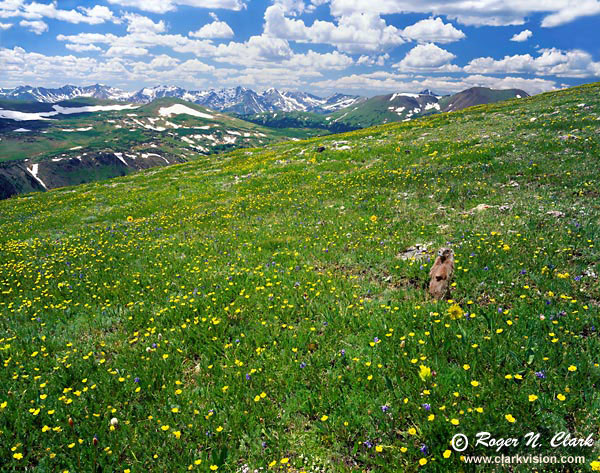 Rocky Mountain National Park, Never Summer Range
This view from Trail Ridge Road in Rocky Mountain National Park looks out toward the Never Summer Range with beautiful wildflowers in the alpine tundra foreground. The 4x5 image shows detail in the flower petals.
This 16585 x 13065 pixel image gives 55.3 x 43.5 inch prints at 300 pixels per inch. A 90mm lens at f/64 was used with Fujichrome Velvia film. The marmot was digitally added; see Photo Ethics and Camera Limitations statement. Marmots were "all over the place" in this area, but had moved away when I set up the 4x5 for this shot. The marmot was photographed first, then the 4x5 set up and the landscape view recorded and the two images digitally combined.
---
The image below shows the detail in this image at one quarter the full resolution. When viewed on a 72 dpi monitor, the full image would appear about 58 inches wide and 45 inches tall (4.8 x 3.8 feet)! Imagine a this large picture in front of you as you view the image below. You would normally step back a few feet to view the full image.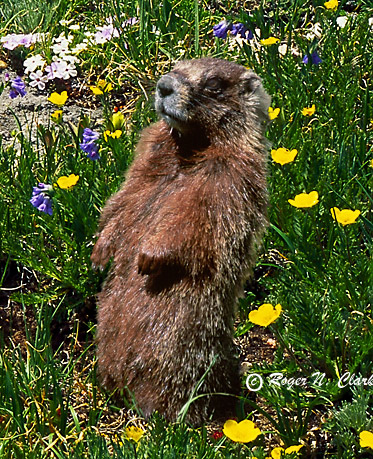 ---
To learn how to obtain stunning images like this, please visit my Extensive Articles on Photography .
---
Keywords to this image = landscape-1 colorado nature-1 RMNP marmots wildflowers mountains large_format
Image ID: c071698_L4a6_600.jpg


All images, text and data on this site are copyrighted.
They may not be used except by written permission from Roger N. Clark.
All rights reserved.
Last updated July 31, 2020