ClarkVision Photography: Night Gallery
<!###################################################>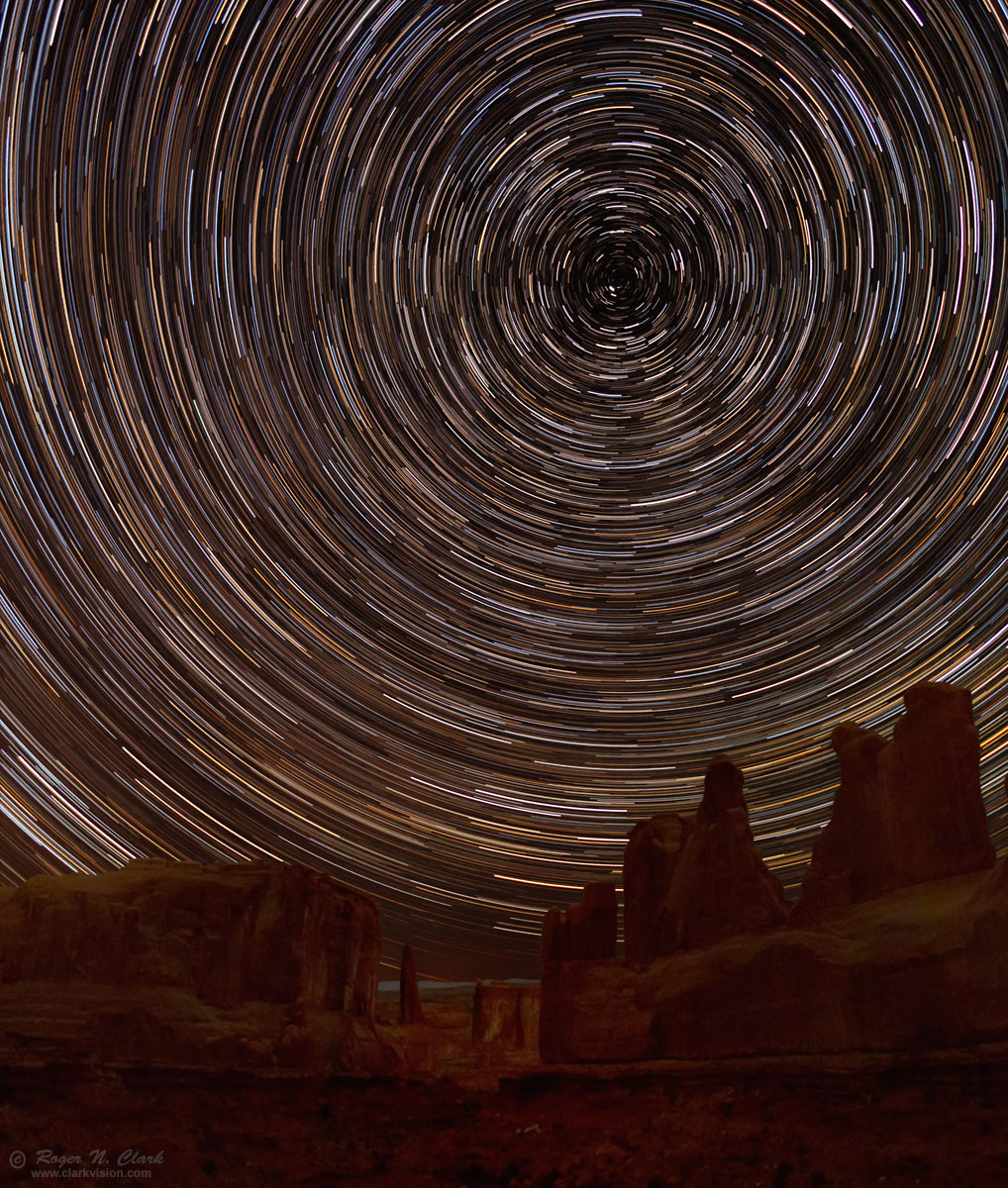 Park Avenue Star Trails, Arches National Park
The Park Avenue viewpoint in Arches National Park is to the north, ideal for a star trail image. Park Avenue is a valley flanked by massive Entrada Sandstone monoliths. The view is spectacular any time day or night, but there are few people at night.
Technical. The image was made with a Canon 7D Mark II 20-megapixel digital camera and a Sigma 15 mm f/2.8 lens. Thirty three 2-minute exposures were made with a fixed tripod at ISO 800, f/3.5. Airplanes and satellites were removed from individual exposures and the images combined by selecting the maximum value in each image. This image is a slight crop off the original.
No dark frame subtraction, and no flat fields were used. The Canon 7D Mark II has the very low pattern noise, and on-sensor dark current suppression, so there is no need to do dark frames. Modern raw converters correct for hot pixels and, with lens profiles, correct for light fall-off, so there is no need for flat field corrections. Processing was done with 16-bits/channel.
This is a natural color image. How do we know the colors are reasonable? The star colors can be checked against stellar photometry. Red stars have B-V > 2, orange stars have B-V of 1 to about 2. The blue-white stars have B-V in the range of 0 to -0.5. The colors closely follow the color sequence in Table 1 at Color of Stars. Solar-type stars have a B-V of 0.63 and appear close to white (daylight white balance). Less than 1% of stars in the Milky Way are blue. Interstellar dust is brownish in color, not the typical fake blue we see in many Milky Way photos we see these days on the internet. For more on natural color in the night sky see Parts 2a, 2b, 2c and 2d on Color of the Night Sky and proper post processing to show those colors.
---
To learn how to obtain stunning images like this, please visit my Extensive Articles on Photography .
---
Keywords to this image = nightscapes landscape-1 startrails night low-light utah archesNP canon_7d2
Image ID: arches-park-avenue-star-trails-rnclark-0J6A5644-79b-av33.g-c1e-1200vs.jpg


All images, text and data on this site are copyrighted.
They may not be used except by written permission from Roger N. Clark.
All rights reserved.
Last updated November 05, 2022