ClarkVision Photography: Night Gallery
<!###################################################>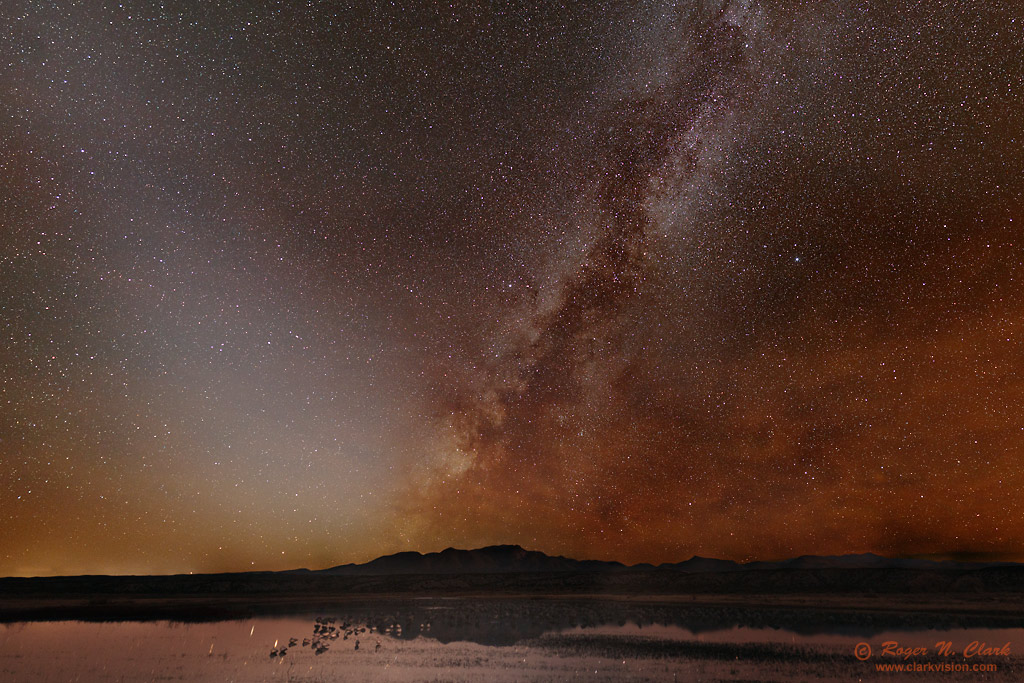 Night at Bosque del Apache (crop 1)
Nightscape at Bosque del Apache shows an astounding scene. In the foreground are sleeping snow geese and sandhill cranes. The blueish diffuse glow on the left, pointing up toward the left edge is the zodiacal light: dust in our Solar System scattered by sunlight (thus the Blueish cast from fine particle Rayleigh scattering). In the center of the image running from below left of center to the upper right is the Milky Way galaxy. The Milky Way near the mountains includes the constellation Scutum. The galactic center and the constellation Sagittarius are just below the horizon. About half way from the horizon to the top of the image along the Milky Way is the constellation Cygnus and the North America nebula is oriented with "Mexico" pointing to the left, "Canada" to the right (north is to the right). The mottled red glow near the horizon above the mountains is auroral airglow. The zodiacal light and galaxy reflect faintly in the lake.
Technical. Canon 1D Mark IV 16-megapixel digital camera with 24 mm f/1.4 L II lens, 30 second exposures at f/2, ISO 1600. This is a 20-frame mosaic with the full resolution image 11680 x 10474 pixels. Each frame on the sky was tracked to keep the stars from trailing. On frames at the horizon, two frames were made: one tracked, one untracked and the tracked stars merged with the untracked landscape to make a sharp image. The mosaic covers about 120 degrees from top to bottom. Such a wide angle results in some distortion, so star reflections may be offset from the stars in the sky, especially towards the left and right edges of the image.
To learn how to obtain stunning images like this, please visit my Extensive Articles on Photography .
---
Keywords to this image = BosqueNWR newmexico bird sandhill_crane canadian_snow_goose nightscapes airglow night low-light mosaic large_format digital_astro canon_1d4
Image ID: bosque.night.12.02.2012.C45I5591-610_P8k-c1-1024.jpg


All images, text and data on this site are copyrighted.
They may not be used except by written permission from Roger N. Clark.
All rights reserved.
Last updated June 05, 2023