ClarkVision Photography: Night Gallery
<!###################################################>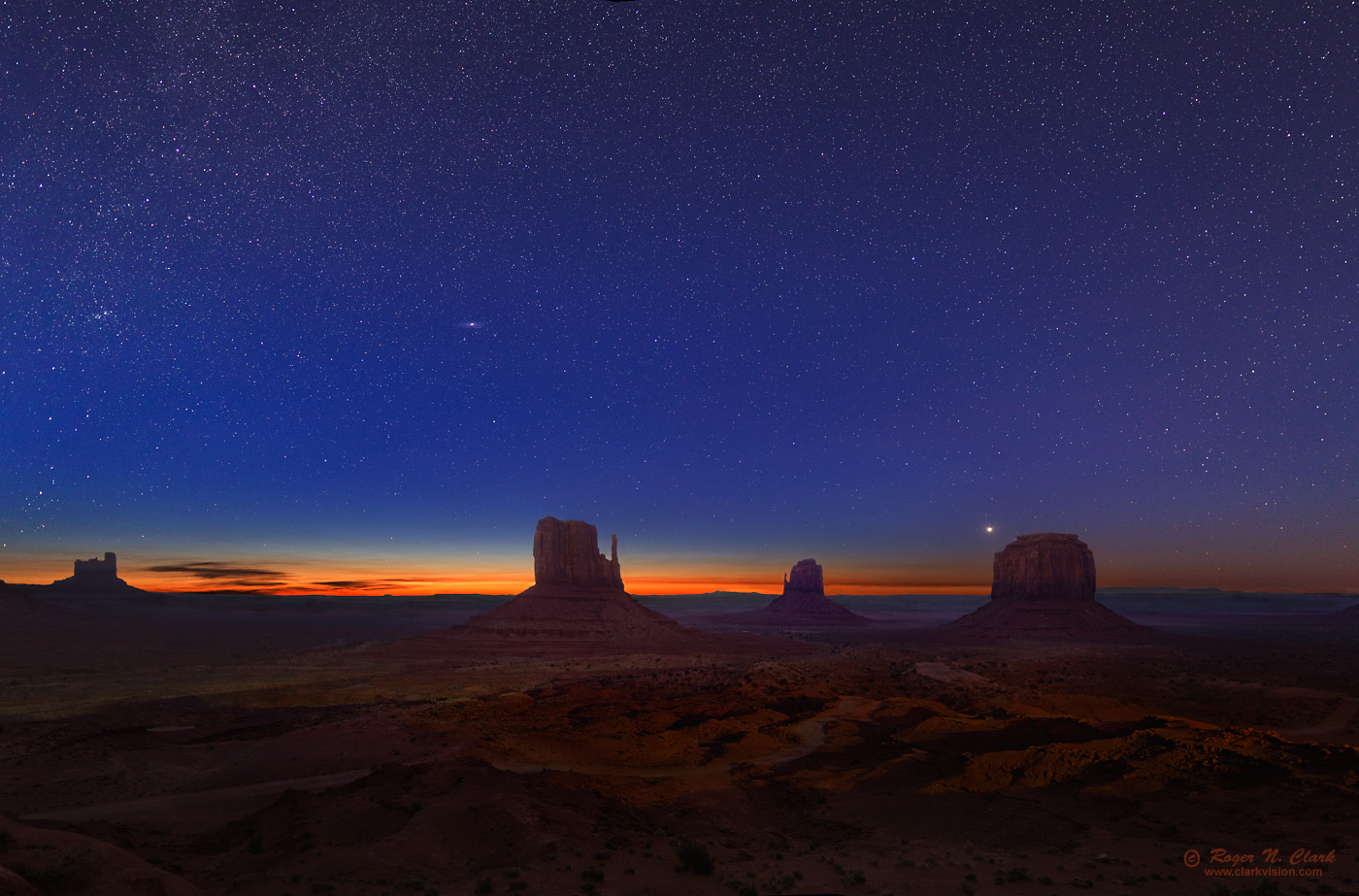 The Mittens Dawn, Monument Valley
I woke up early to go with a guide into the valley for sunrise. While waiting to go in, we had a beautiful twilight scene develop before us, with the awe-inspiring The Mittens rock formations before us. Seeing the beautiful twilight developing. I made a quick mosaic of 9 frames, equivalent to a large format image. The sun was still 15 degrees below the horizon, so it appeared quite dark with only a hint of blue twilight (astronomical twilight) enabling me to still see many stars. The bright "star" on the right is Venus, near Merrick Butte, and above left of the left Mitten is the Andromeda Galaxy, M31, which could be seen visually as a fuzzy patch. Cassiopea and the Double cluster appears on the left. To speed the acquisition, I moved and positioned each frame by hand. I completed the mosaic in 4.3 minutes and we made it to our first destination before sunrise. Twilight is one of the few times the night sky appears blue. The long exposure time picked up more detail and faint sunrise than could be seen with my eyes.
Technical. This image is a 9-frame mosaic. Canon 6D 20-megapixel digital camera, Sigma 35 mm f/1.4 DG HSM lens at f/1.4. Six exposures at ISO 1600 were made on the sky, each an 8-second exposure, fixed tripod. Three exposures at ISO 1600 were made on the land, each 30-second exposures. Full resolution image is 9828 x 6481 pixels (64 megapixels).
No dark frame subtraction, and no flat fields were used. The Canon 6D has the very low pattern noise, and on-sensor dark current suppression, so there is no need to do dark frames. Modern raw converters correct for hot pixels and, with lens profiles, correct for light fall-off, so there is no need for flat field corrections. Processing was done with 16-bits/channel.
---
To learn how to obtain stunning images like this, please visit my Extensive Articles on Photography .
---
Keywords to this image = nightscapes landscape-1 mosaic night low-light digital_astro large_format arizona canon_6d
Image ID: mittens.dawn.rnc2014.05.03.IMG_1886-94.g-1400s.jpg


All images, text and data on this site are copyrighted.
They may not be used except by written permission from Roger N. Clark.
All rights reserved.
Last updated June 05, 2023