ClarkVision Photography: Wildflowers Gallery
<!###################################################>
Wildflowers in the Taryall Mountains of Colorado
This view in Colorado Mountains shows glowing wildflowers. Flowers take on an unusual property after sunset and before total darkness: they sometimes appear to glow brighter than the rest of the landscape. This image was obtained after sunset in fading light. The exposure was one minute (comparable time in full sunlight would have been about one second).
This large-format (4x5) image is 12,800 x 16,200 pixels (approx 3300 dpi drumscan) allows sharp enlargements of 42.6 x 54 inches at 300 pixels per inch to be made. Front tilt was necessary to maintain sharpness throughout the full depth of field. Imaged with a 90 mm lens at f/64 and Fujichrome Velvia were used.

---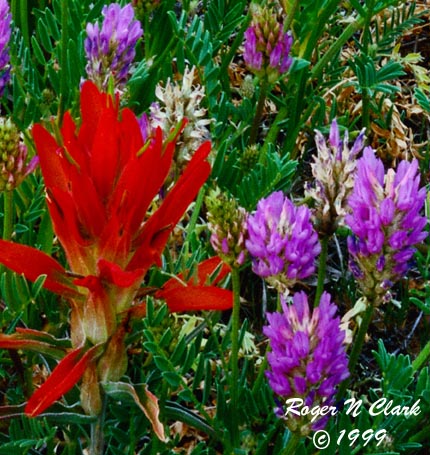 Image Detail: 1/4 of full resolution.
Image ID: c071099_L4_10_1e
The image detail above shows the flowers in the lower center of the image about as they would appear in a 43 x 54 inch print (when viewed on a 72 dpi monitor). A computer monitor shows less pixels per inch, so a print of in the 43 x 54 inch range shows about 4 times more detail-- similar to what you might have viewed with your eyes if you were sitting in the field.
To learn how to obtain stunning images like this, please visit my Extensive Articles on Photography .
---
Keywords to this image = landscape-1 colorado wildflowers large_format
Image ID: c071099_L4_10_1e_taryall.jpg


All images, text and data on this site are copyrighted.
They may not be used except by written permission from Roger N. Clark.
All rights reserved.
Last updated November 17, 2019