ClarkVision Photography: NEW Gallery
<!###################################################>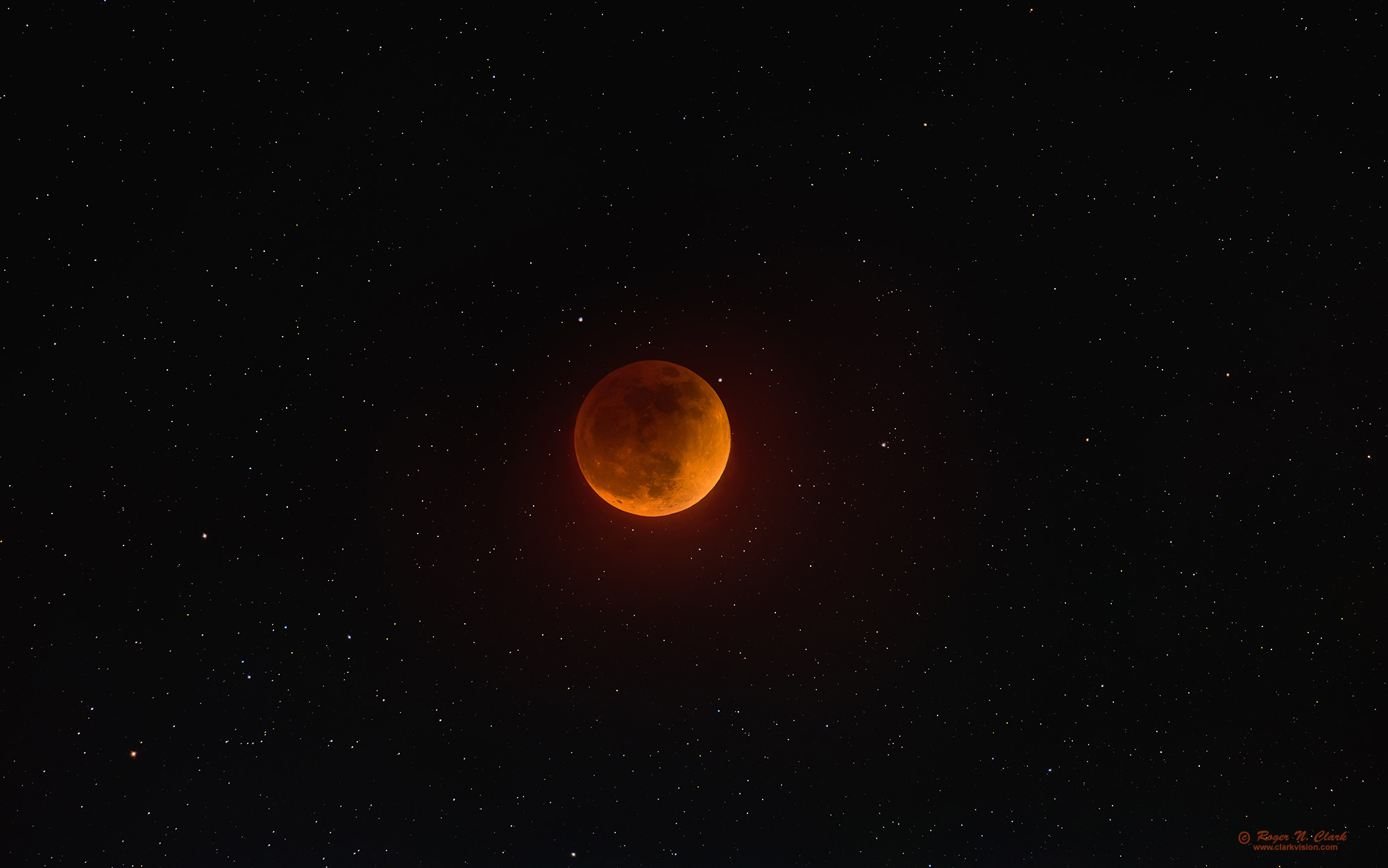 Lunar Eclipse Among the Stars, May 15, 2022
The Lunar eclipse of May 15, 2022. During mid eclipse, with the Moon quite dim, many stars can be seen and photographed near the Moon. In this view, stars a bit fainter than magnitude 14 were recorded. Stars that faint can be seen visually in telescopes with at least 8-inches (20 cm) aperture. The image was made from the Denver metro area (Bortle 6) with the Moon low in the sky.
The bright blue star just to the upper right of the Moon is HIP 76033A, a magnitude 6.25 star in the Constellation Libra.
Technical. The image was obtained with a stock Canon EOS R5 Mirrorless Digital Camera and Canon 100-400 L IS zoom lens at 400mm. The copper-colored Moon at mid eclipse plus the stars is a High Dynamic Range image (HDR) using two exposures: 1) three exposures at 2 seconds at f/5.6, ISO 800, and 2) 90 exposures 8 seconds at f/5.6, ISO 800. The total exposure time was 12 minutes for the stars, 6 seconds for the Moon. With such long exposures, the Moon and stars were tracked using a Fornax Lighttrack II mount. The full image was cropped slightly after stacking to reject dark edges. Full image is 7632 x 4772 pixels (36 megapixels). The image here is reproduced at 26.2%. Full image plate scale is 2.26 arc-seconds / pixel, and the image here is at 8.6 arc-seconds / pixel.
To learn how to obtain stunning images like this, please visit my Extensive Articles on Photography .
---
Keywords to this image = astrophoto-1 moon eclipse night low-light digital_astro canon_r5 NEW
Image ID: moon-eclipse-stars-rnclark-c05-15-2022_av93.i-2000s.jpg


All images, text and data on this site are copyrighted.
They may not be used except by written permission from Roger N. Clark.
All rights reserved.
Last updated August 31, 2023