ClarkVision Photography: Astrophoto 1 Gallery
<!###################################################>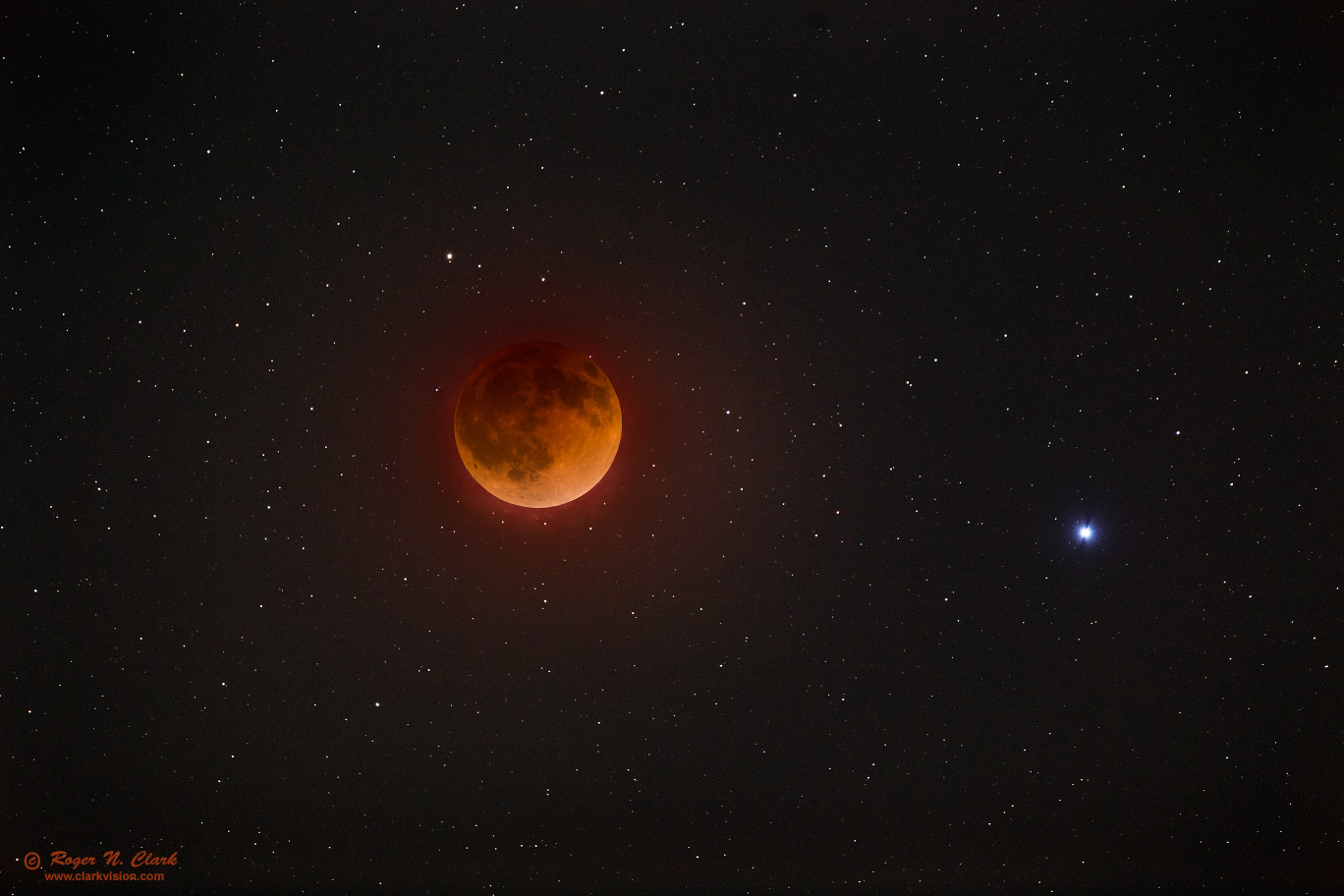 Lunar Eclipse Among the Stars in Virgo
The Lunar eclipse of April 15, 2014. During mid eclipse, with the Moon quite dim, many stars can be seen and photographed near the Moon. In this view, stars a bit fainter than magnitude 15 were recorded. Stars that faint can be seen visually in telescopes with at least 8-inches (20 cm) aperture.
The bright blue star at lower right is Spica, Alpha Virgo. The bright star to the above left of the Moon, by about 1 lunar diameter, is the unaided eye star h Virgo (HIP 66098), magnitude 5.2. Celestial north is up in this image (at about the 11:30 position on an analog clock).
Technical. Canon 6D 20-megapixel digital camera, 500 mm f/4 telephoto lens. This is a High Dynamic Range image (HDR) using two exposures: 1) 2 seconds at f/5.6, ISO 200, and 2) 30 seconds at f/4, ISO 1600. Note ISO does not change the amount of light gathered, only aperture and exposure time do. The higher ISO simply digitizes finer details that brought out fainter stars. Thus, the true exposure ratio was 30. With such long exposures, the Moon and stars were tracked using a Losmandy G11 equatorial mount. Full image, no crop. This view is 1/4 resolution of the full image.
To learn how to obtain stunning images like this, please visit my Extensive Articles on Photography .
---
Keywords to this image = astrophoto-1 moon eclipse night low-light digital_astro canon_1d4
Image ID: lunar.eclipse.rnc04.15.2014.IMG_0800-3.f-1368.jpg


All images, text and data on this site are copyrighted.
They may not be used except by written permission from Roger N. Clark.
All rights reserved.
Last updated July 01, 2023