ClarkVision Photography: Astrophoto 1 Gallery
<!###################################################>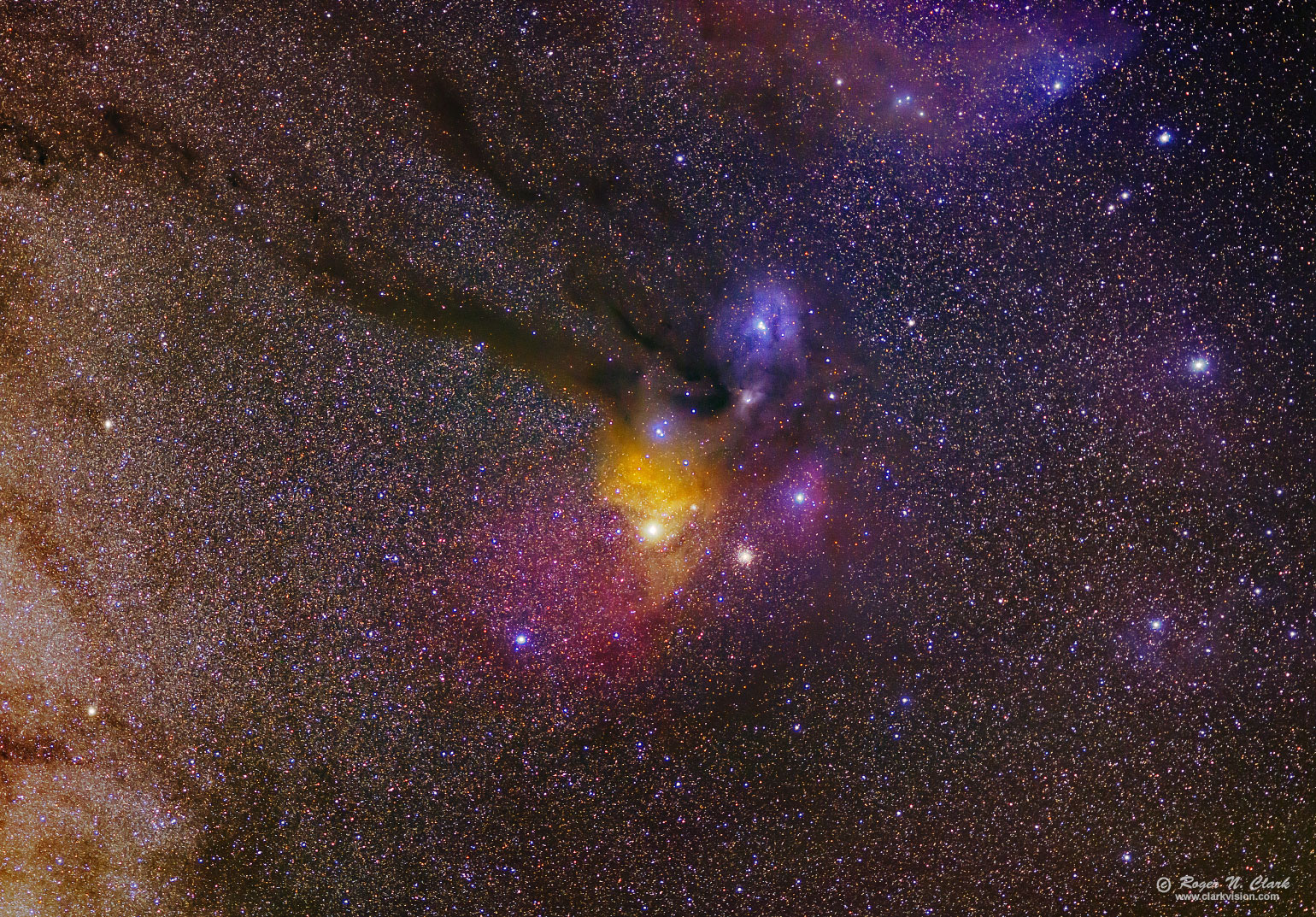 Colorful Nebulae in the Scorpio Region Rho Ophiuchus Region
The Scorpio-Ophiuchus area of the night sky is full of colorful nebulae. The reddish-pink nebulae are hydrogen emission nebula. The blue nebulae are dust that is so fine (grains much smaller than the wavelength of visible light) that light is scattered more efficiently at shorter wavelengths, giving the blue color, the same process that colors our daytime sky blue (called Rayleight scattering). The yellow and reddish brown colors are dusty areas where the dust grains are large compared to visible wavelengths. Black regions are where the dust is so thick that starlight is completely blocked.
Technical. Canon 6D 20-megapixel digital camera, with a Canon EF 100mm f/2 USM Lens. Nine 1-minute exposures were made at f/2, ISO 1600, tracking the stars with an iOptron SkyTracker Camera Mount. The image was made in an area of moderate light pollution, and details on the processing of the image data are described here: Astrophotography Image Processing with Light Pollution . The article include links to the raw data files so that you may try the processing yourself.
The Exposure Factors, CEF, CEFA are measures of the relative amounts of light received from a subject. It can be used to fairly compare wildly different lens/telescope apertures and exposure times. For this image:
Modern DSLRs like the Canon 6D include on sensor dark current suppression and low fixed pattern noise at ISOs around 1600 and higher, making no need for dark frame subtraction. Modern raw converters correct for light fall-off and also correct for hot/dead/stuck pixels. This makes processing low light images easy: simply align and average.
---
To learn how to obtain stunning images like this, please visit my Extensive Articles on Photography .
---
Keywords to this image = astrophoto-1 nebula low-light digital_astro canon_6d
Image ID: scorpio-100mmf2.c06.20.2015.IMG_4737-45sigav-f-b3x3-c1s.jpg


All images, text and data on this site are copyrighted.
They may not be used except by written permission from Roger N. Clark.
All rights reserved.
Last updated July 01, 2023