ClarkVision Photography: Astrophoto 1 Gallery
<!###################################################>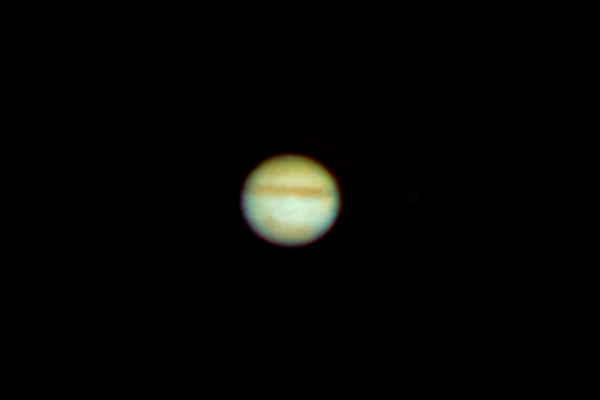 Jupiter with a Telephoto lens and fixed tripod
Imaging the planets is quite a challenge, especially without a good sized telescope. While this image is not a great image of Jupiter by many standards, it shows that a good telephoto lens can still pull out some detail on such a small object. The dark belts of Jupiter are clearly seen, as is the Great Red Spot to the lower left. This also shows that stacking teleconverters can still maintain high image quality. Image obtained October 14, 2010 from my driveway.
Technical. Canon 1D Mark IV digital camera, 500 mm f/4 L IS lens with two stacked 2x teleconverters giving 2000 mm focal length at f/16. Exposure was 1/60 second at ISO 400, f/16. Eight frames were obtained and the raw files converted in photoshop CS4, then enlarged 2 times in ImagesPlus (IP). The 8 images were graded for quality in IP, then combined. The stacked image was next run through Richardson-Lucy image deconvolution in IP. The image was opened in photoshop and duplicated in a layer. The two layers were combined with multiply to improve contrast. The seeing (atmospheric turbulence) was low (typical Colorado turbulence of air moving over the Rocky Mountains).
Please visit my Extensive Articles on Photography .
---
Keywords to this image = astrophoto-1 planet jupiter canon_1d4
Image ID: jupiter.c10.14.2010.1d4+500mm+2x+2x.c45i1832-40.d-400.jpg


All images, text and data on this site are copyrighted.
They may not be used except by written permission from Roger N. Clark.
All rights reserved.
Last updated July 01, 2023