My Very Portable Astrophotography, Landscape and Wildlife Photography Setup

by Roger N. Clark
My goal in photography gear is to buy good equipment that I can use for multiple types of photography: multiple use. My multi-use requirements include very low light astrophotography to fast action wildlife photography, to landscape photography. Further, the setup must be portable enough to travel to remote places, including easily on airplanes. I have achieved my goals.
---
The Night Photography Series:
---
Contents
Introduction
The Portable System
The Assembled System
Conclusions
References and Further Reading

---
All images, text and data on this site are copyrighted.
They may not be used except by written permission from Roger N. Clark.
All rights reserved.
If you find the information on this site useful, please support Clarkvision and make a donation (link below).
---
Introduction
Whether I'm going to a local wildlife area, or a dark sky site, or traveling thousands of mile by air, I want a portable system that can excel at wildlife action photography, landscapes, nightscapes, and the very low light deep sky astrophotography of galaxies, nebulae and star clusters. And I want all this in a light package that I can carry. Here I'll show my current system that meets all these requirements and weights less than 70 pounds, including lenses, 2 camera bodies, tripod, astro tracker mount, tripod heads, batteries, and the cases to hold it all. The performance of such a small system is astounding. The tracker and tripod can also be removed from the carrying case and put on my backpack so I can hike to remote locations with under 50 pounds.
With a setup like I describe here, I can go to remote places, from National Parks in the US, to the Serengeti, even traveling by small plane and still carry the full system. And all this with stock cameras--no special modifications for astrophotography. The same camera that is ideal for astrophotography is also ideal for wildlife action photography.
2019 Update. I am now also using a Fornax Lightrack II. Both the Astrotrac and the Lightrack II are ultralight trackers with excellent tracking accuracy. The Astrotrac is no longer in production but may be found used. The Lightrack II is in production and may be found new. See Fornax Mounts: http://fornaxmounts.com/products/lightrack.html
Example images with my system are shown in Figure 1a and 1b.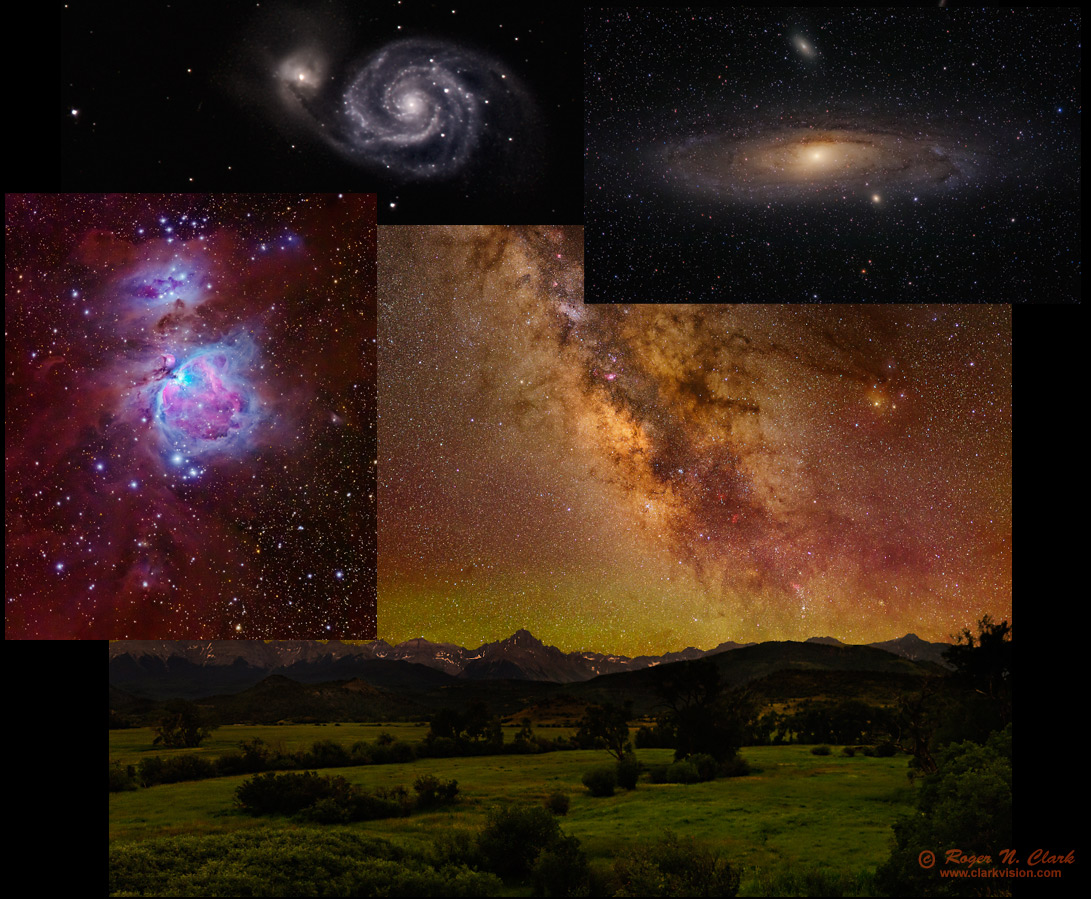 Figure 1a. These images are illustrative of night sky and deep sky astro photos that are possible with stock modern digital cameras and lenses. These images are natural color images made with lenses having focal lengths from 35 mm to 420 mm. The Milky Way nightscape was made with a Canon 6D + Sigma Art 35 mm f/1.4 lens. All the other deep sky images were made with a stock Canon 7D Mark 2 digital camera, and Canon 300 mm f/2.8 lens. At center, above the mountains is the core of the Milky Way galaxy. At right is the full frame image of the nebula in the sword of Orion, M42, made with the 300 mm and the Canon 7D2. Top center is the Whirlpool galaxy, M51, made with a 300 mm f/2.8 + 1.4x teleconverter (420 mm) and 7D2. At upper right is the Great Andromeda galaxy, M31, made with the 300 mm and 7D2.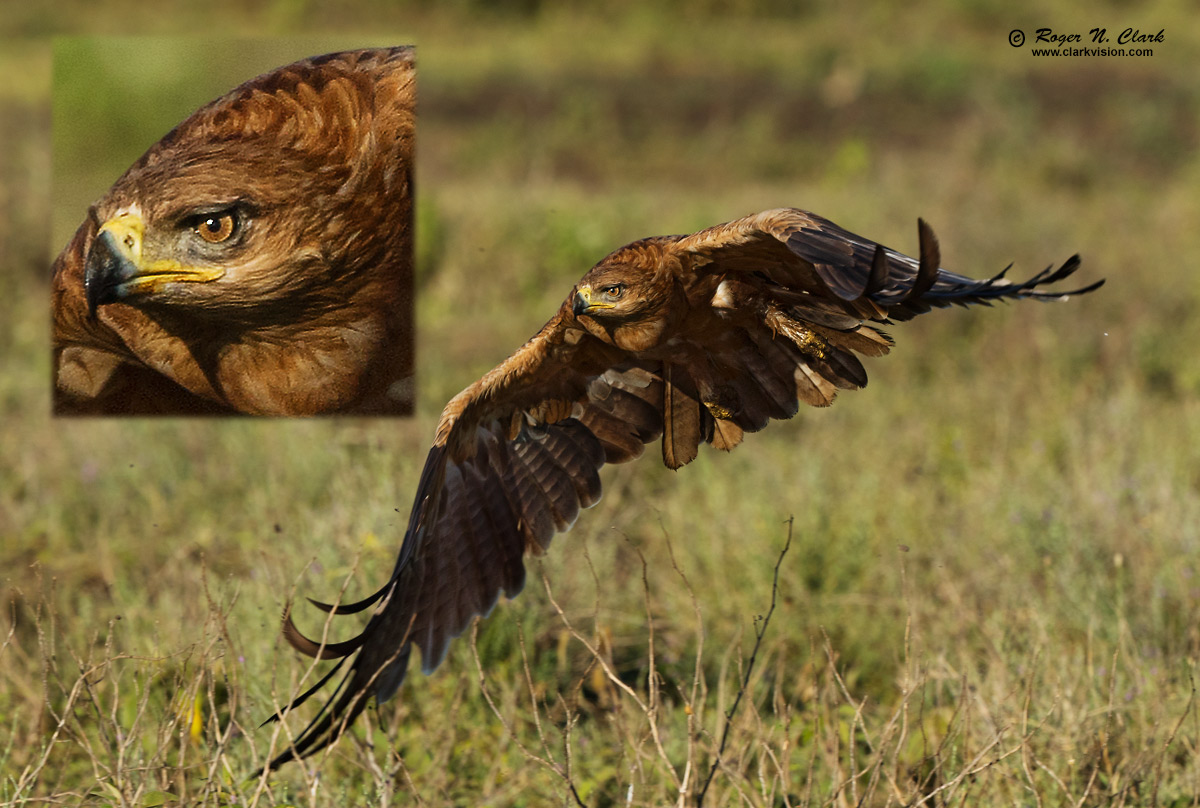 Figure 1b. Tawny eagle coming in to a kill on the Serengeti with a complex foreground and background. Tracking and autofocus speed proved amazing in this case and in other images I made on safari in the Serengeti in February 2015 with the 7D Mark II camera and 300 f/2.8 L IS version II lens. Gallery page is HERE.
The Portable System
The packed system is shown in Figure 2. Of course I wear the backpack and roll the Pelican case if the surface is smooth. The cameras and lenses in the photo backpack are shown in Figure 3 and the contents of the Pelican case are shown in Figure 4.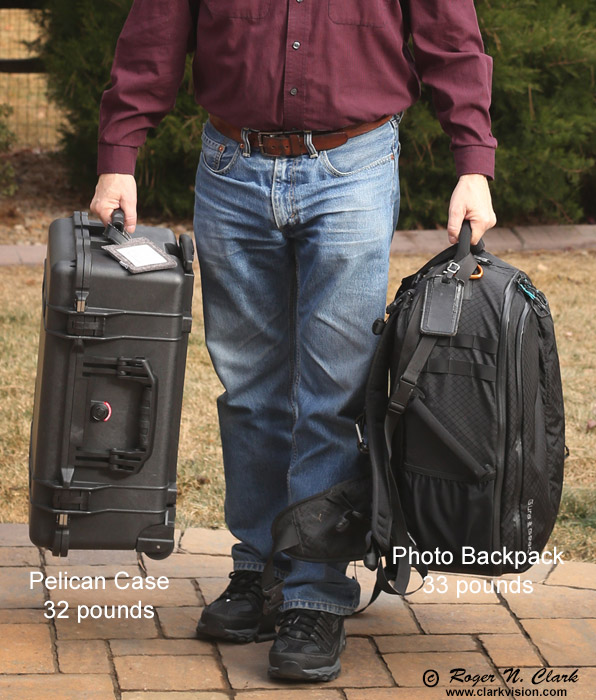 Figure 2. The portable system weights less than 70 pounds in 2 small bags. The Pelican case has rollers so can be rolled like a suitcase. The tripod and astro tracking system are in the Pelican case and the cameras and lenses are in the photo backpack.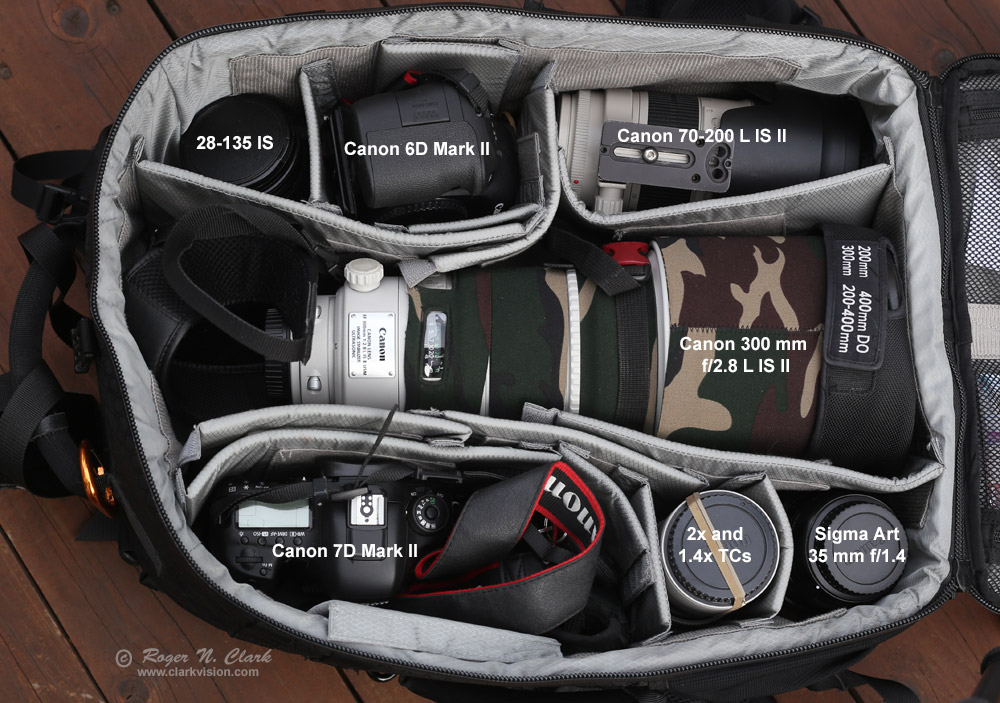 Figure 3. The contents of the photo backpack.
The photo backpack contains the following gear.
Cameras: Canon EOS 6D Mark II DSLR Camera or sometimes I carry a Canon 6D 20-megapixel digital camera

Canon EOS 7D Mark II DSLR Camera
Lenses: Canon EF 300mm f/2.8L IS II USM Lens with Canon Extender EF 1.4X III and Canon Extender EF 2X III
EF 70-200mm f/2.8L IS II USM Lens, Sigma 35 mm f/1.4 DG HSM lens, Canon 28-135 IS lens,
Gura Gear 32L backpack (older). Current equivalent is: Gura Gear G Elite G32 Pro Camera Backpack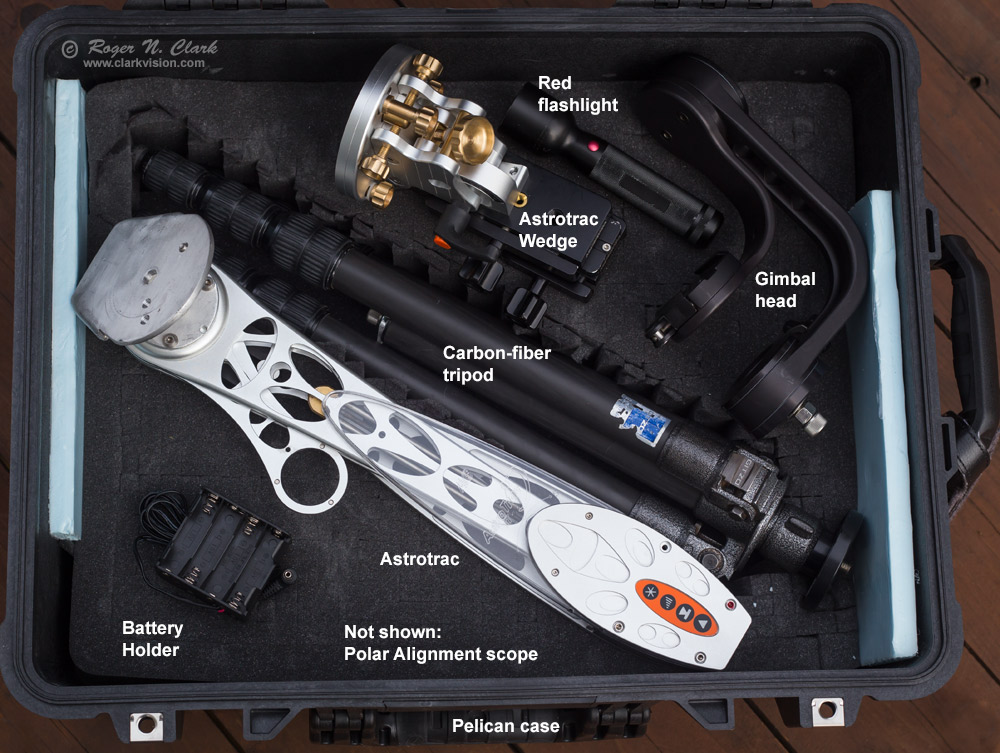 Figure 4a. The Pelican case with carbon-fiber tripod, astrotrac, gimbal head. Not shown are miscellaneous accessories, including polar scope, batteries, tools and spare screws and bolts.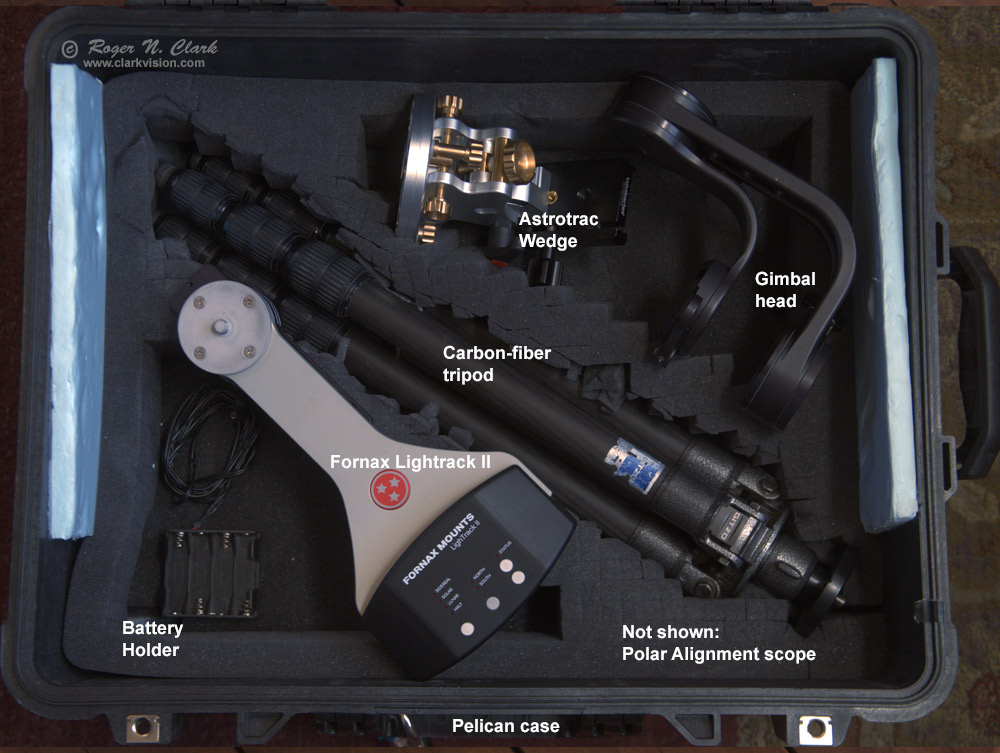 Figure 4b. The Pelican case with carbon-fiber tripod, Fornax Lightrack II, gimbal head. Not shown are miscellaneous accessories, including polar scope, batteries, tools and spare screws and bolts.
Pelican 1560 Case with Foam Set (Black)
Contents: AstroTrac TT320X-AG,
Gitzo 1228 carbon fiber tripod. Equivalent current model: GIGT1545T Traveler Series 1 Carbon Fiber Tripod Tripods up to 22 inches folded length will fit in the Pelican case.
For longer tripods, use a larger Pelican case, like 1615Air Wheeled Check-In Case (Black, with Pick-N-Pluck Foam)
Tripod heads: Arca Swiss MonoBall for the small tripod, the new model: Monoball Z1 sp (Single Pan) Ballhead with 3/8" Screw - Supports 130 lb (59 kg)
The ball head needs a clamp. I use Wimberley clamps (Arca-Swiss compatible): C-12 Quick Release Clamp (2.5", 6.4 cm Long)
With a ball head, this adapter makes a gimbal mount. I use this combination up to 200 mm. Arca Sidekick Ball to Gimbal Head Adapter
Wimberley gimbal mount For deep sky astrophotography on the astrotrac, this works extremely well.
Wimberley WH-200 Gimbal Tripod Head II with Quick Release Base
NOT RECOMMENDED: At this time I strongly do not recommend the 4th generation gimbal head. It looks like they have a great light weight gimbal head, so I bought one. Out of the box I tested the clamps and one axis froze. I have tried contacting the company multiple times for a YEAR AND A HALF. I even wrote a review on their website thinking they would see it in their approval process and contact me. I only got a response after many months. If a company can't stand by their products, do not buy from them. I have never ever made such a recommendation, and waited 1.5 years for a response before making a public comment. I had to modify the locking system in my machine shop to get a workable product. The Gimbal head in Figure 4 is this modified head.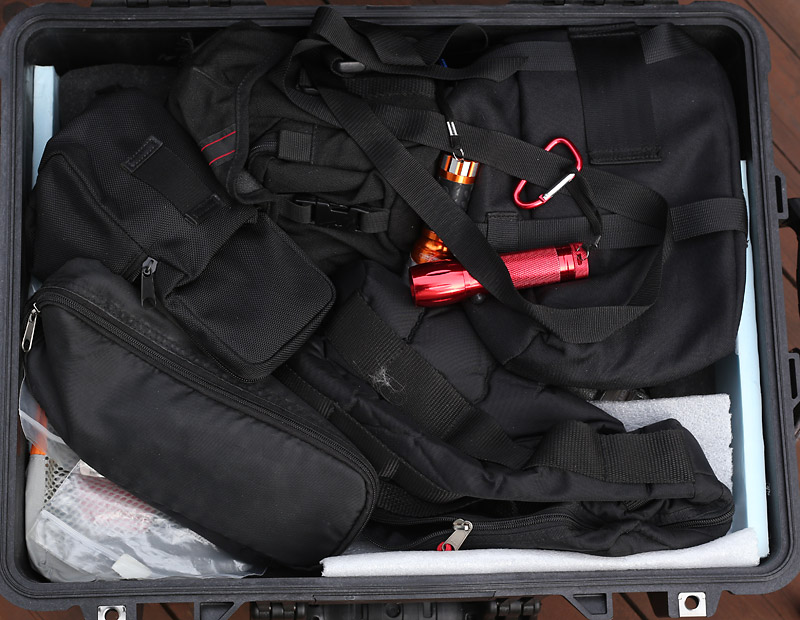 Figure 5. The Pelican case with all parts packed in protective bags for travel.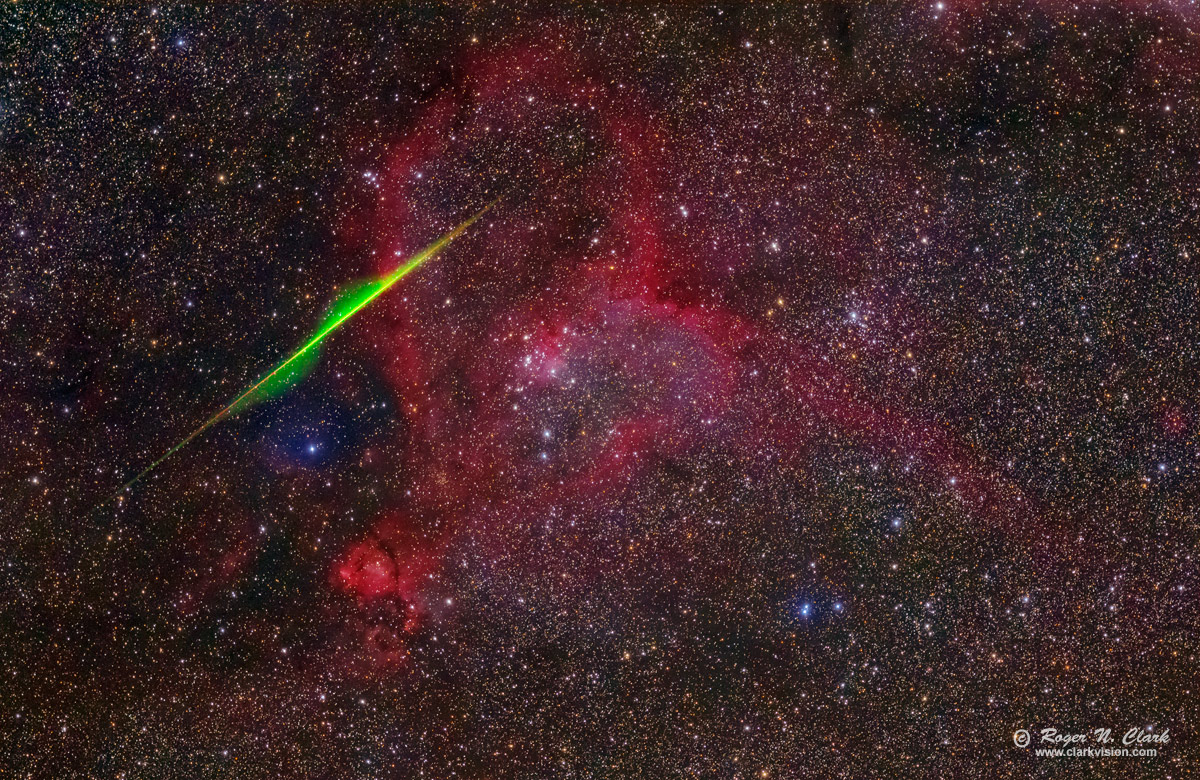 Figure 6. A Spiral Meteor Spears the Heart, NASA Astronomy Picture of the Day for September 15, 2016. This image was made with a Canon 7D Mark II digital camera and 300 mm f/2.8 telephoto lens with the portable system, described here. The Heart nebula is extremely faint and this 19-minute total exposure time illustrates what an amazing camera the 7D Mark II camera is when paired with the 300 f/2.8 lens.
The Assembled System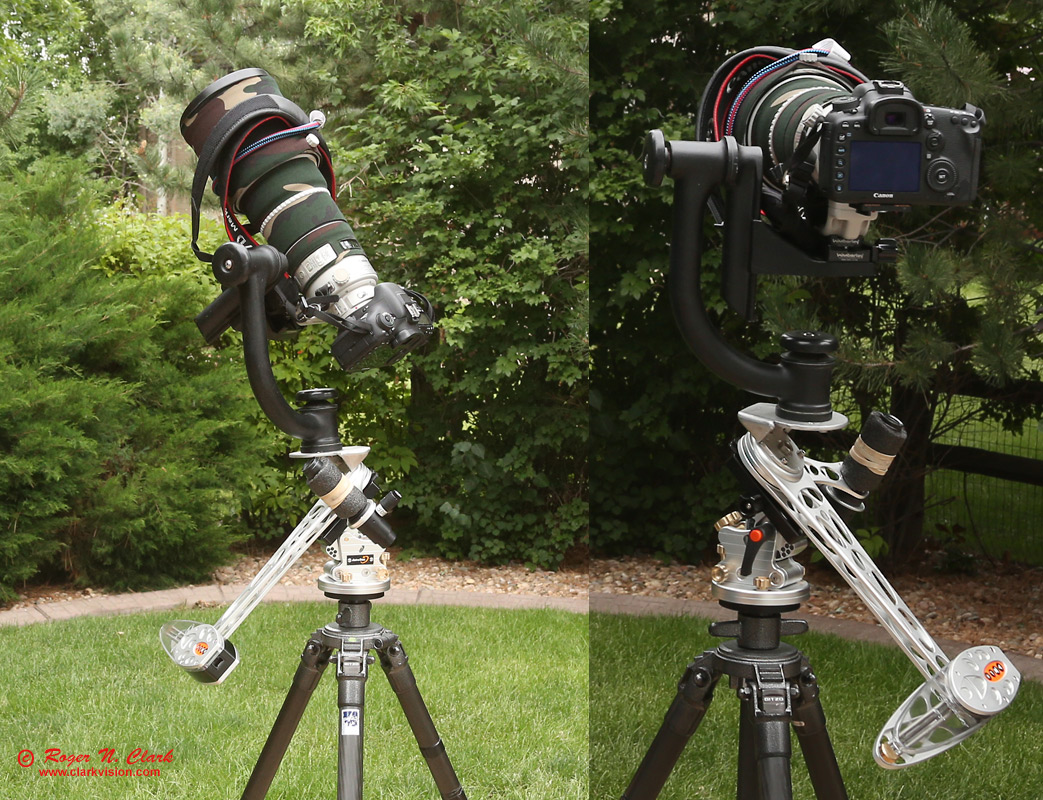 Figure 7a. AstroTrac TT320X-AG mounted on a carbon fiber tripod. Included is the astrotrac wedge for easier polar alignment, and a Wimberley gimbal mount for easier positioning of the field of view with big heavy lenses. The small wedge on top of the astrotrac, holding the Wimberley head is a custom wedge made by a local machine shop. That custom wedge is not necessary, but reduces stress.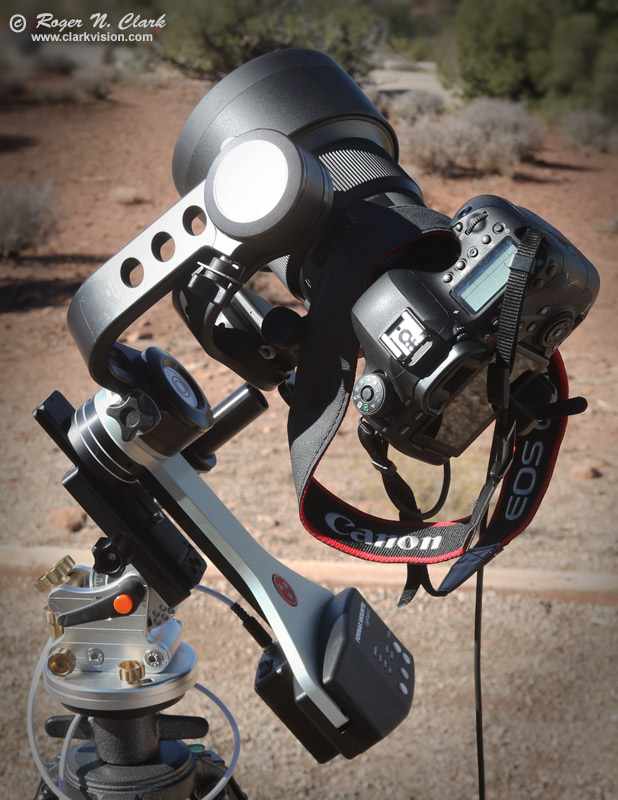 Figure 7b. Fornax Lightrack II with gimbal head. Mounted on the gimbal head is a Sigma Art 105 mm f/1.4 lens on a Canon 6D Mark II camera. Example images made with this setup:
Winter Milky Way with the Orion Galactic Arm.
Central Orion with the Great Orion Nebula (M42, M43), the Horsehead Nebula and M78.
Cygnus Region: North America Nebula to Gamma Cygni.
Comet 46P Wirtanen, The Pleiades, The Hyades, a Meteor and Interstellar Dust
Lunar Eclipse Among the Stars, January 20, 2019.
Conclusions
The products listed here make it possible to have a multi-use landscape, nightscape, wildlife action, and deep-sky astrophoto setup in an extremely portable system. The system is easily taken on airplanes, including small aircraft. Note the Pelican case must be checked baggage on airlines as it is too large for carry-on. The system can be taken to remote locations in a backpack if you can carry about 50 pounds, or a little less by selecting only one camera and fewer lenses.
---
If you find the information on this site useful, please support Clarkvision and make a donation (link below).
---
References and Further Reading
Clarkvision.com Astrophoto Gallery.
Clarkvision.com Nightscapes Gallery.
Clarkvision.com Action Gallery
If you want to do certain types of imaging, choose the right tools. Sometimes gear matters.
Before choosing cameras and lenses, see:
Does Gear Matter in Photography?
For more general low light, night, and astro photography, see this article:
Characteristics of Best Digital Cameras and Lenses for Nightscape and Astro Photography
For specific recommendations on lenses and cameras for low light, night, and astro photography, for a variety of manufacturers, see: Recommended Digital Cameras and Lenses for Nightscape and Astro Photography
---
The Night Photography Series:
---
http://www.clarkvision.com/articles/portable-astro-landscape-wildlife-setup/

First Published January 23, 2018
Last updated January 29, 2019